In less than a decade Asia will account for 65% of all vehicles sold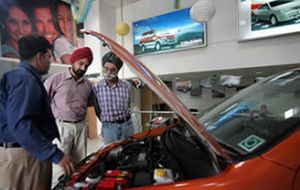 India is likely to take the fourth position in the global automotive market by 2015, according to a study conducted by Booz & Co. Currently that spot is held by Brazil, another emerging market, which is likely to give India a challenge.
Brazil only captured 4th place last year beating out Germany. In third spot for global vehicle sales is Japan preceded by the US with China tops the list. Reportedly, sales figures have been growing high while the Indian car market is expected to grow to 6 million plus units per year by 2020.
When combined with China and Japan, Asia is set to take control of demand in the auto industry, with the report suggesting that by 2020 Asia could account for 65% of all vehicles sold.
The recent recession that rocked economic foundations of US and most of Europe hasn't had much of an effect on the Indian economy in general that expanded at a rate of 8.5% last year. Besides the Indian population consists of a strong middle class, numbers of which are still on the rise. It is estimated that about 26% of the population consists of an economically sound middle class who are wanting for more.
"Our research portrays that with the rapid expansion of the automotive industry in India, it is expected to surpass the European nations by 2015 and generate sales up to 6+ millions units annually by 2020. With China and India ramping up in parallel directions, the global auto industry is sure to get reshaped, thus propelling Asia to capture 65% of the total market size by 2020," says Vikas Sehgal, Partner, Booz & Company, India.
The growing middle class population has given an upswing to the small car segment while large cars segment is also expected increase as the income levels go high, says the report. India and China are said to be twin pillars and could emerge as major players in the automotive landscape.