Uruguay solid candidate for "investment grade" rating says JP Morgan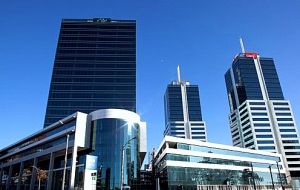 Uruguay is considered a solid candidate to obtain "investment grade" given its strong economic fundamentals and these same factors make the country's bonds issued in indexed units, UI, an attractive investment, according to a report from the investment bank JP Morgan published in the Montevideo press.
A combination of relatively high inflation and a strong local currency Peso, against the US dollar continue to grant "the financial technical support" to Uruguay's papers issued in UI, with which a profitable return can be made.
Last month Uruguay successfully floated debt in UI and Uruguayan pesos, equivalent to 1.256 billion US dollars, of which 702 million dollars in UI further ads the JP Morgan report in support of its recommendations.
JP Morgan anticipates that the Uruguayan peso will continue to appreciate against the US dollar during 2011. In 2010 the greenback kept falling during the first half and somewhat recovered in the second half but the Peso ended 2.4% stronger in the local market at the end of the year.
"The success of the verbal intervention from the administration of President Jose Mujica in mid 2010 to depreciate the Uruguayan peso, following on pressures from the exporters' lobby, was short lived", adds the report.
For 2011 JP Morgan forecasts that "the massive influx of foreign investment, the tourist sector boom and a robust growth of exports, plus a strong appreciation from the Brazilian Real" will push the US dollar down in the local market. The exchange rate estimate for 2011 ranges between 19,25 and 19.75 Uruguayan pesos.
Regarding prices a combination of internal and external factor is expected to accelerate price increases and put in doubt the Uruguayan government's capacity to redirection inflation to target.
Although in 2010 inflation (Retail Prices Index) was in line with the official 6.9% target, this was just 0.1 percentage point below the top bracket (7%) in 2011 JP Morgan estimates a similar or higher inflation rate which will be above the higher bracket target of 6% established as of next June. Similarly for 2012 the US investment bank has an inflation estimate of 6.6%.
As to the budget's fiscal deficit for 2011, JP Morgan makes an estimate of 0.5% to 1% of GDP, which is "manageable and easy to finance".
In this scenario of relatively high inflation and stronger peso, Uruguayan bonds in UI are attractive although not those issued in US dollars.