Another green revolution in the making with the "Green Super Rice"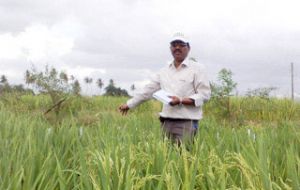 The world appears to be on the threshold of another green revolution in rice production as a result of an intensive, 12-year partnership between the Chinese Academy of Agricultural Sciences in Beijing and the International Rice Research Institute in the Philippines.
Called "Green Super Rice," it is the result of a project begun in 1998, involving the painstaking crossbreeding of more than 250 different potential varieties and rice hybrids, according to Dr Jauhar Ali, a senior scientist and regional project coordinator for the Development of Green Super Rice at IRRI in Los Baños, south of Manila.
The development of the process, Dr Ali said, is considered so significant that Microsoft founder Bill Gates met personally with Zhi-Kang Li who holds a dual position both with IRRI as Senior Molecular Geneticist and as Chief Scientist with the Institute of Crop Sciences at the Chinese Academy of Agricultural Sciences in Beijing and, through the Bill and Melinda Gates Foundation, presented the program with a 18 million US dollars, three-year grant to expand the benefits to Asia and Africa.
The process was developed by Zhi-Kang Li, It involves the efforts of hundreds of researchers in dozens of countries across the world, seeking to isolate the desirable traits from indigenous strains and then backcross breed them to produce hardier varieties.
Dr Ali said the method of producing the new strains of rice is as important, or perhaps even more so, than the strains of rice themselves, because it holds out the hope of a scientific method of increasing yields of other crops, making them hardier and more resistant to disease and insects and cutting the use of fertilizers and pesticides without resorting to genetic modification. Importantly, since it was developed by public institutions, it is not subject to the onerous conditions that major agri-chemical companies like Monsanto place on farmers, including the need to buy new seeds every year.
The development comes at a time when food security has become a major political issue, not just in Asia but increasingly across the world as the price of commodities skyrocket. Disastrous floods in Pakistan, drought in Australia, fires and drought in Russia, all combined to spur concern that the world could be on the brink of a food crisis to rival that endured in 2007, when the price of rice shot from roughly 250 US dollars to 1,100 USD per ton before falling back to hover around 500 USD today.
Imbalances in the demand-supply chain and hoarding by national governments have forced the World Food Program to initiate a number of emergency projects to continue the delivery of food to the world's poor. Rice in particular faces problems from climate change.
It has been a long, hard slog to come out with the concept of Green Super Rice, Dr Ali said. It started in 1998 with the launch of an international rice molecular breeding program originally involving more than 18 countries and 36 institutions. However, there was no funding to continue the program and it ultimately died out in all of the countries and institutions except for IRRI and the Chinese Academy.
Green Super Rice does not involve genetic modification. Instead, it involves taking hundreds of donor cultivars from dozens of different countries, identifying significant variations in plant response to drought, global warming and other problems, and "backcross" breeding – painstakingly crossing a hybrid with one of its parents or with a plant genetically like one of its parents, then screening the backcross bulk populations.