Chile extends foreign exchange market intervention program to tame strong peso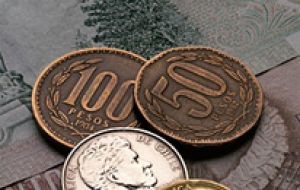 The Chilean central bank announced Tuesday it would maintain the pace of a 12 billion US dollars foreign exchange intervention to tame the strong peso between Feb. 9 and March 8, and continue to buy 50 million of US currency daily.
The peso, which weakened sharply after the intervention began in early January, has clawed back more than half of the 7% initially lost due to strong prices for main export copper and wider dollar weakness, and is again within striking distance of near three-year highs.
However market participants had speculated that the central bank might increase its daily dollar purchases to 75 million or 100 million USD as the peso has beaten back most of its post-intervention losses on the back of rising copper prices and expectations for more interest rate hikes.
In early January, the central bank started the 12 billion currency intervention program--which will increase its foreign currency reserves to the equivalent of 17% of GDP to tame the significant appreciation of the peso.
The monetary authority has accumulated 1.25 billion USD so far this year through the intervention.
The program was launched in response to non-metal exporters (fisheries, wood and pulp, agriculture) who argue that a 'cheap' dollar is insufficient to compensate costs in 'strong Chilean peso' and affects the country's competitiveness.