Energy rationing powers to prevent further blackouts in Chile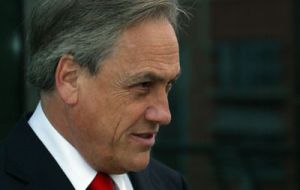 The Chilean government announced on Wednesday a string of measures to help prevent the possibility of more blackouts. Chile is in the middle of a yearlong drought, crippling its ability to produce hydroelectric power.
President Sebastián Piñera declared that energy consumption must drop by 5% to safeguard the continued operation of Chile's primary energy distribution system, the Sistema Interconectado Central (SIC). Piñera called on the public to use energy wisely to stave off more extreme rationing policies.
The decree will allow the government to reduce electrical voltage between 5 and 10%. This step alone would draw the government halfway to its target reductions.
The government is also planning to better manage its remaining water reserves. This will ensure there is sufficient water supply for electricity generation during the winter when demand for electricity increases. It would also ensure the price of water remains fairly constant during the months of high demand.
Energy and Mining Minister Laurence Golborne also announced incentives for customers to buy generators as well as for individual energy reduction. Other possible responses include an increase in diesel turbines and an upgrade of the transmission system.
Currently the system is too antiquated to deal with increased demand in the metropolitan area, which has been affected by the current dry spell. The country has produced up to 71% of its energy through hydroelectric power in the past, but these figures were more than halved in 2010, and the pattern continues this year.
The growth of the economy has also created a bigger demand for energy, especially in the Santiago.
Piñera made the announcement after a two-hour meeting with Golborne, in which they discussed the problems that SIC faces in supplying energy to nearly all of Chile's homes.
This is not the first time the country has turned to energy rationing. A similar system of rationing took effect in 2008 under the former President Michelle Bachelet. In 1999, moreover, electricity was shut off in Santiago for three hours daily, usually in the early evening, from April until June.
"Let me be very clear with all Chileans" said President Piñera "You remember that in the late 90's our country went through severe power cuts, which meant very significant costs for Chilean families and their quality of life, and also the productive apparatus of our country. Our government wants to act early. This is a decree that anticipates preventive solutions to avoid potential problems of power cuts."
Golborne said that if rainfall did not increase, the government would need to seriously re-evaluate its energy situation.
Rationing in the north, where Chile's heavy industry is located is among the suggested ideas to help protect energy supplies in the south. Chile's north consumes 60% of the total energy produced in the country.
By Mark Briggs – Santiago Times