"Limits must be imposed" on Latinamerican presidential successive re-election
Saturday, February 12th 2011 - 08:12 UTC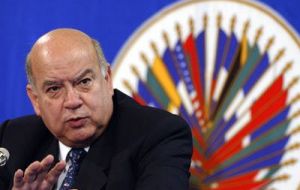 The Organization of American States, (OAS), Secretary General Jose Miguel Insulza said that democracy must impose limits on Latin America's presidential successive re-election tendency.

"Democracy by nature requires limits" said Insulza who participated in Bogotá in a forum to celebrate the 100 years of the Colombian newspaper El Tiempo.

"We can't deny there's a clear and very strong weakness of Latinamerican institutions, particularly those referred to the Executive and the tendency to change for governments bolstering individual figures".

Insulza said "power must be shared, but we are going through a very complicated period where power is highly concentrated".

Furthermore there's "a weakening of those institutions which exercise control over the running of government, difficulties for common citizens to express their grievances, plus violence, abuse and threats to the free press"

But in spite of all, "I believe (Latinamerica) is going through a democratic period, quite positive".

Insulza shared the panel of "What is the future of democracy" with Nicaraguan Vice-president Sergio Ramirez and political analyst Michael Schifter from Inter-American Dialogue.

Ramirez emphasized on political processes such as 'democratic socialism' which has made inroads in some Latinamerican countries, but he also considered that this tendency can become 'anti-democratic' and is more closely linked to what he described as "regressive utopias".

Shifter pointed out to electoral phenomena such as the indigenous movements that for example in Bolivia have been very successful in reaching government and praised the fact that women have been elected presidents in several countries of the region and are increasingly involved in politics.