Extreme weather and panic buying send wheat soaring to new highs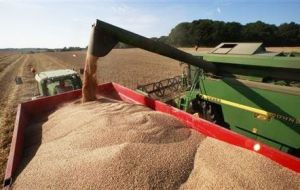 Countries anxious to avoid a repeat of the 2007-2008 global food crisis when they were caught short of grain supplies, have stepped up their buying programs and are driving prices to new highs.
While not quite panic buying, countries particularly in the Middle East and North Africa were very keen to secure supplies for their populations so as to avoid a last minute scramble as happened two years ago.
"It is a more measured and planned response to avoid the sky-high prices of 2008" said Wayne Gordon grain analyst from Raboank.
Governments in developing countries were very concerned about rising prices for staple foods as it was a potential source of political unrest, he said.
Nevertheless consumers everywhere would see higher bread prices in 2011.
Dwindling grain supplies, particularly of high quality milling wheat caused by extreme weather, and concerns that political instability in countries such as Egypt may spread to other African and Middle East nations has pushed milling wheat prices up 18% since early January edging close to US$9 a bushel, (370 USD a ton) according to Rabobank's latest Agri Commodities Monthly.
Prices are higher than last August amid the Russian drought.
Wheat is just one of many farm commodity prices set to enjoy strong prices in 2011 as global supplies are crunched and countries try to rebuild low inventories.