Japan cuts short whaling season; Greenpeace says whale-meat market overstocked
Wednesday, February 16th 2011 - 13:23 UTC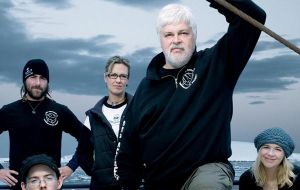 The Japanese whaling fleet has called an early end to its whaling season in Antarctica a move which conservationists tentatively say could spell an end to whaling in the Southern Ocean. But Greenpeace Japan said there were other reasons to halt "scientific whaling".
The International Fund for Animal Welfare (IFAW) issued a statement welcoming reports in the Japanese media that Tokyo had decided to cut short this year's Antarctic hunt and the fleet was heading back to port with less than half its projected quota.
"Putting safety as a priority, the fleet has halted scientific whaling for now. We are currently considering what to do hereafter" said Tatsuya Nakaoku, an official at the Fisheries Agency.
When asked if Japan was considering bringing back the fleet earlier than planned, he said this remained an option and added that Japan's whaling plans were not going smoothly.
The Sea Shepherd group's vessel Bob Barker has been following the fleet's factory ship, the Nisshin Maru, since February 9. Bob Barker's captain, Alex Cornelissen, confirmed that the whaling vessel had left the hunting grounds and was now 2.000 nautical miles from them in the Drake Passage, between the southern tip of South America and Antarctica.
Three harpoon vessels which made up the remainder of the fleet were unaccounted for, he said, but these would be unable to kill whales without the Nisshin Maru to process them. The fleet had had an "absolutely disastrous" season because conservationists had been shadowing it since the first day of the whaling season.
The whaling fleet usually leaves Japan in November and comes back in March or April. This winter, however, it left Japan on Dec. 2, unusually late.
However Greenpeace Japan which predicted the duration of the hunt would be shortened explained that falling profitability in whale meat sales and an increase in the frozen stockpile of such meat was behind the decision.
The stockpile stood at 5,093 tons, nearly a record level, in December. It has risen almost steadily from 1,453 tons in 1999.
Greenpeace Japan Secretary General Junichi Sato said: "The Japanese government blames Sea Shepherd for the (possibility of) bringing the fleet home early, but what it actually means is that it has proved incorrect that Japan's commercial whaling, which Japan calls research whaling, makes business sense and is sustainable."
Japan has come under increased international pressure to cut down on whaling. The International Whaling Commission submitted a proposal in April for Japan to decrease its whaling quota in the Antarctic from the current 800 whales to about 200 in 10 years.
Japan caught 506 minke whales and a fin whale in the Antarctic Ocean in the 2009-2010 season compared with 679 minke whales and a fin whale in the previous season and 551 minke whales in the season before that.