Mantega reiterates opposition to French plan for commodity prices regulation
Wednesday, February 16th 2011 - 22:53 UTC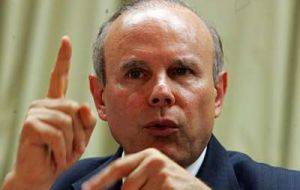 Brazil reiterated opposition to a French plan to impose regulation on commodity prices, saying it could have "negative effects" on major suppliers such as itself. "Brazil is totally opposed to a mechanism of control or regulation of commodity prices," Finance Minister Guido Mantega told reporters, reiterating a position he gave last week.
France has said it plans to use its chair of the G20 group of leading developed and developing nations to push for commodity price regulation in a bid to block what it considers speculation in the market of food crops such as grain and cereals.
Food prices around the world have surged in recent months, prompting some observers to say resulting unrest was one of the factors in the revolutionary zeal sweeping the Middle East.
France plans to hold discussions on the issue in a G20 finance meeting to be held in Paris Friday and Saturday.
Mantega said possible solutions to rising food prices could be that G20 countries encourage agricultural production in poorer nations, and that "the rich countries could work to eliminate the subsidies they give their farm products".
Commodities like sugar and soy beans are important exports for Brazil, and Mantega says the global price for many commodities shot up 40% last year.
Mantega says limiting commodity prices could actually cut the supply of the affected crops, and make price problems worse. He argues such regulations will keep farmers from responding to high prices by planting more hectares of expensive crops in the hope of making more money. Smaller plantings are likely to mean smaller crops, and tight supplies tend to boost prices.