First major legislative victory for Rousseff: keeps minimum wage on target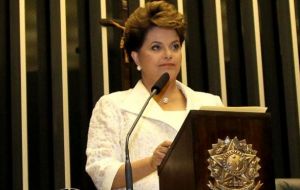 Brazil's Lower House approved Wednesday a government proposal to limit a minimum wage increase to 545 Real a month, handing President Dilma Rousseff her first major legislative victory.The proposal will be voted on in the Senate next week, where it is expected to be approved.
A bigger rise, as sought by labour unions, could have derailed Rousseff's drive to rein in public spending and tame inflation that hit a six-year high near 6% last year as the economy boomed. The government last week announced 30 billion USD in budget cuts for 2011.
Rousseff might come under growing pressure to backtrack on some of those cuts and has already signalled she may fall short of pledges for sweeping economic reform.
In theory, the government holds a comfortable majority in both houses of Congress. But due to weak party loyalty, it has had to cajole and court coalition members, including its own Labour minister.
The result by a strong majority in the Chamber showed Rousseff's ability to harness her coalition even on issues sensitive to her constituents.
Still, Rousseff, who took office on Jan. 1, risks her as yet untested popularity by pushing austerity, although analysts say she can afford to use up some of the political capital she gained in the election.
Rousseff's predecessor, former union leader Lula da Silva, oversaw a nearly 60% rise in the Real value of the wage between 2002 and 2010 that helped lift millions from poverty and kept his popularity at record highs.
Union leaders, who wanted an increase to at least 580 Real, had accused Rousseff of using inflation as an excuse to push an agenda of fiscal austerity that will hurt the poor and working class most.
The minimum wage is used to calculate a range of state salaries and benefits, including pensions for nearly 19 million Brazilians. Each additional Real adds nearly 300 million Real (180 million US dollars) to annual government spending and stimulates an economy already stretched to its limit.