IMF head scheduled to visit Uruguay and Brazil next March; skips Argentina
Thursday, February 17th 2011 - 22:30 UTC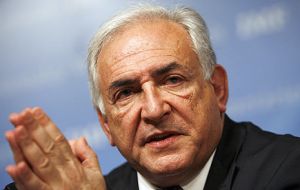 IMF Managing Director is scheduled to visit Uruguay next month where he will meet President Jose Mujica and his economic team before flying to Brazil. Dominique Strauss-Khan will arrive in Uruguay from Panama and is not scheduled to visit Argentina, according to Uruguayan government sources.
"Uruguay is interested in having a good relation with the IMF and other multilateral organizations since this represents a good image for the country and we need foreign investment, mainly in infrastructure to improve our production capacity", added sources close to the Uruguayan Executive
The administration of President Mujica is drafting a legislative package geared to attract investors in certain areas now under government control and "we already have interested parties from the US, European Union and New Zealand".
According to the Uruguayan information Strauss-Khan following an official visit to Panama on March 2nd will arrive in Uruguay together with the Director for the Western Hemisphere, Chilean born Nicolas Eyzaguirre. The IMF party then flies to Brazil to meet with President Dilma Rousseff who took office January first.
This weekend President Mujica will be addressing in Punta del Este investors and entrepreneurs from Brazil. Since taking office almost a year ago Mujica has made it as priority of his administration to have close links with Latin America's largest economy. A similar seminar is scheduled for next April when hundreds of mainly Argentine business people are expected to attend, as has happened in previous occasions.
The fact Strauss-Khan will skip Argentina, --in spite of strained relations with the IMF--, is considered in Argentine financial and business circles as yet another "failure" of the country's diplomacy. Argentina recently requested the IMF to help with the elaboration of a new price index given the controversy surrounding the country' Statistics Office, Indec, which has been accused of manipulating indexes (denying inflation) to conform to government's policies. This was interpreted as a 'friendly' gesture from the Kirchner administration towards the IMF.
Furthermore next March US President Barack Obama will be visiting Chile and Brazil, but not Argentina and this in spite of the fact that Cristina Fernandez de Kirchner is known to be a "fan" of the US president and longs to have closer relations with the Democrat administration as opposed to the previous Republican. Besides, the Foreign Minister is Hector Timerman, was the former ambassador in Washington and has excellent links with the powerful New York Jewish community.