TAM Airlines maintained its market leadership in Brazil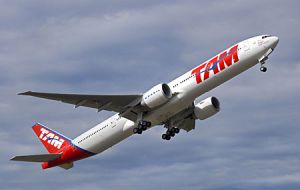 The Brazilian National Civil Aviation Agency (ANAC) has published its operational data for the month of January 2011.
Domestic Brazilian Market: In the domestic Brazilian market, which includes data from Pantanal, TAM Airlines maintained its market leadership, accounting for a 43.4% market share due to the growth in demand (in RPK) of 17.3%, combined with an increase of 12.3% in supply (in ASKs), compared to January 2010, which resulted in an increase in load factors of 3.3 p.p. to 79.1%, the best rate since July 2006.
The numbers reflect the increase of leisure passengers flying in off-peak hours and buying tickets in advance, combined with the high volume of passengers using the TAM Fidelidade loyalty program reward tickets, therefore diluting the yield.
Due to these factors, the domestic yield recorded was lower than December 2010, but the RASK (revenue per available seat kilometre) increased, due to the load factor growth mentioned above.
International market: The demand of passengers travelling between Brazil and other countries remained strong and consistent, driven by the appreciation of the Brazilian currency, the real, and by the holiday season in Brazil.
In the international market, compared to the same month last year, TAM saw a rise of 10.4% in demand with an 11.2% increase in supply that resulted in a decrease of 0.6 p.p. in load factors that registered 81.3% over the period. TAM's market share among Brazilian carriers offering international services in January was 85.2%. (e TN)