Chilean vineyards face shortage of field workers; most migrate to construction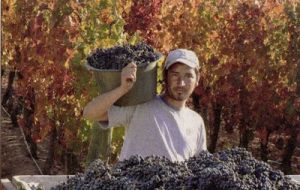 Chile's white wine grapes slated for harvest at the end of the month may not find enough hands to pick them. The grape harvest is the most labour-intensive period of the year for vineyards, but this year, vineyards having trouble tracking down temporary workers to work the harvest season.
The agricultural director of Santa Rita vineyard, Sebastián Warnier, said there are between 15% and 20% fewer workers now than there were two years ago. Warnier attributed the scarcity of available workers to the many reconstruction jobs after the February 2010 earthquake.
Agricultural director of Santa Carolina vineyard, Sebastián Herrera, agreed.
"After the earthquake there was a drop [in the workforce] and now today there is a shortage," he said.
President of Vinos de Chile, René Merino, said that the places most affected by the labour scarcity are the Casablanca Valley and Maipo Valley, both near Santiago.
"The workforce is scarcer in the sectors neighbouring the big cities than in rural sectors, where temporary work is a more natural constant."
Vineyards in Limari and Elqui, north of Santiago, also report difficulties, due to labour competition with the local mining industries.
Pedro Minay, advisor for the rural organization Movimiento Unitario Campesino y Etnias de Chile (MUCECH), began working for agricultural reform in the 1960s. Minay told The Santiago Times that most rural farmers leave the countryside because there are very few year-round work opportunities, and seasonal jobs rarely pay well.
"There is a minimum wage in Chile, but it's rare in the vineyards that they pay minimum wage. The work is paid by the unit, not by the hours worked, so you end up working more than eight hours in a day just to make the minimum wage."
Minay added that the labour conditions at vineyards are far from ideal. "Non compliance with existing labour laws is common in the vineyards. There is no respect for health and safety," Minay told The Santiago Times.
"The agro-chemicals used in the fields leave both men and women infertile."
Merino, of Vinos de Chile, said that vineyards will increase their use of machines for the 2011 harvest.
In the Santa Rita vineyard, Warnier said that each machine replaces between 150 and 200 people. Without machines, the entire crop would require between 1,500 and 2,000 people for the harvest.
General Manager of Viña Sutil, Juan Pablo Casas, said that the workforce is more than 15% more expensive this year than in last year's harvest. Merino expressed the possibility that workers from other countries might travel to Chile for the harvest.
"The same people that harvest in Argentina could come to Chile, because they might be attracted to what they're paying the workforce here."
By Jackie Seitz – Santiago Times