Japan announces the end of its annual whale hunt in Antarctica
Friday, February 18th 2011 - 06:00 UTC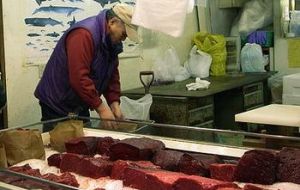 Japan ended its annual whale hunt in Antarctica early following clashes between its fleet and protesters, Agriculture Minister Michihiko Kano said.
The government made the decision "to secure the safety of ships and their crew," Kano said in a press briefing on NHK Television. Tatsuya Nakaoku, an official at Japan's Ministry of Agriculture, Forestry and Fisheries, said Sea Shepherd Conservation Society boats had chased the whaling ships and disrupted the hunt.
Japan spends as much as 60 million US dollars a year on its whaling programs and relies on official sales of meat from the Antarctic hunt to fund 85% of the costs. There have been frequent skirmishes between the whalers and Sea Shepherd activists, and Australia in May filed a case against Japan in the International Court of Justice claiming its whaling program is illegal.
Sea Shepherd said earlier this week it had trailed the Nisshin Maru ship for 3,220 kilometers near the Southern Ocean, and claimed it had prevented hunting since Feb. 9. The organization sent three vessels to the area to thwart Japan's annual hunt, which it conducts using a rule under a 1986 moratorium on commercial whaling that allows "lethal research" on the mammals. This year's quota is 945 whales.
"Sea Shepherd interventions have forced a closure to their illegal poaching activities," the organization's head, Paul Watson, said in a Feb. 16 statement.
Critics including environmental group Greenpeace International, argue the annual hunts are a waste of taxpayers' money and take place for political rather than food supply reasons. Japan had a stockpile of 4,455 metric tons of frozen whale meat in December from previous expeditions, according to the latest official data.
"Japan's whaling serves no purpose whatsoever and the fleet has no business in the Southern Ocean Whale Sanctuary," Junichi Sato, executive director of Greenpeace Japan, said in an e-mail. "An early return of the whaling fleet is not enough, Japan's whaling ships should never leave port again".