UK/Spain reaffirm commitment to Trilateral Dialogue on Gibraltar
Friday, February 18th 2011 - 14:11 UTC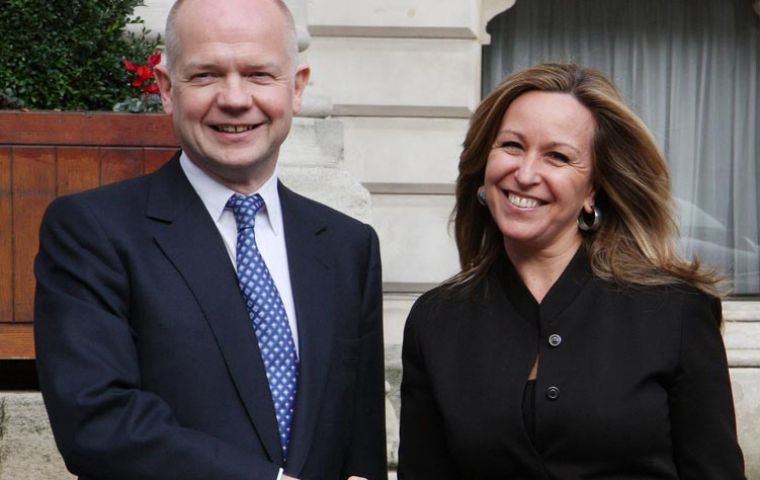 UK and Spain's foreign ministers reaffirmed Thursday their commitment to the Tripartite Forum (UK/Spain/Gibralar) for Dialogue following a bilateral meeting in London, reports the Gibraltar Chronicle.
At a press conference after the meeting, William Hague and Trinidad Jiménez said the trilateral process continued to make progress at official level. Both were hopeful that a ministerial meeting of the forum would be held soon.
Minister Jiménez was asked about Gibraltar by a Spanish reporter at the press conference after Spain's leading newspaper, El Pais, published an article claiming Madrid had gone cold on the trilateral process.
According to the report, tensions over judicial, policing and environmental issues - particularly those involving Gibraltar's territorial waters - had created a barrier to progress that Spain was in no hurry to overcome.
However Ms Jimenez said that "the government of Spain has not changed its position in respect of the Tripartite Forum". She acknowledged that the areas still under discussion were "particularly sensitive" but expressed confidence that progress could be achieved.
"Cooperation in the various areas is an important element and we have to generate confidence between the communities, without prejudice to the UK and Spain being able to continue dealing with the questions that concern us," the Spanish Minister said.
Mr Hague also reaffirmed the UK's commitment to the Trilateral Forum, which he said continued to function well at technical level. He said the parties hoped to hold a ministerial meeting "in the near future". He also echoed the Spanish minister's answer and said that the UK's position on the talks also remained unchanged.
A day before the Spanish Senate rejected a motion form the Conservative opposition, Popular Party calling for Spain to renew bilateral talks with the UK on the sovereignty of Gibraltar.
The ruling coalition Socialist Senator Jose Carracao described the PP statements about Gibraltar in the PP motion as "anachronistic" and "inexact".
PSOE (ruling Socialists) remain open to cooperation and dialogue in respect of Gibraltar, "without renouncing in any way the sovereignty claims" added Senator Carrasco.