Oil at two year high triggered by Middle East and North Africa unrest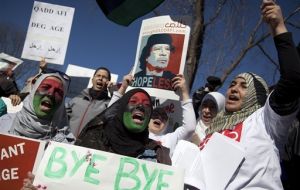 Oil reached its highest price in more than two years in London as violence escalated in Libya given growing concerns supplies could be disrupted as turmoil spreads through the Middle East and North Africa.

Brent gained as much as 2.5 percent after Libyan leader Muammar Qaddafi's son warned that a civil war would risk the country's oil wealth. Security forces have launched attacks on anti-government protesters, killing more than 200 people, according to New York-based Human Rights Watch.

Libya has the largest proven reserves in Africa and pumped 1.6 million barrels a day of oil in January. It is the ninth OPEC producer and 80% of its oil is exporter to Europe.

Brent for April settlement on the London-based ICE Futures Europe exchange climbed as much as 2.56 USD to 105.08 USD a barrel, the highest since Sept. 25, 2008. Crude for April delivery on the NY Mercantile Exchange was up 3.52 USD, or 3.9% at 93.23 USD a barrel in electronic trading after rising as high as 93.75.

Shokri Ghanem, chairman of Libya's National Oil Corp., was quoted saying that he had no information about a disruption in production of crude. However Al-Jazeera reported early Monday that Libya's Nafoora oil field had stopped producing because of an employee strike.

Libya has become the focal point of region-wide protests ignited by the ouster of Tunisia's president last month and further boosted by the fall of Egypt's President Hosni Mubarak last week. Violence has flared in Yemen, Djibouti and Bahrain as governments sought to crack down on calls for reform. Demonstrations were reported Sunday in Iran, Algeria and Morocco.

Meantime it was announced that officials from more than 90 nations including Saudi Arabian Oil Minister Ali al-Naimi and U.S. Deputy Energy Secretary Daniel Poneman will gather tomorrow in Riyadh, to seek ways of curbing fluctuations in oil markets.

Protests in Bahrain, provoked by discontent among the majority-Shiite Muslim population, have sparked concern violence will spread to neighbouring Saudi Arabia, which holds one-fifth of the world's oil. Saudi Arabia has a Shiite minority concentrated in its eastern oil-producing hub.

Countries in North Africa and the Middle East were responsible for 36 percent of global oil output and held 61 percent of proved reserves in 2009, according to BP Plc, which publishes its Statistical Review of World Energy each June.