President Rousseff promises Brazilian economy will speed up in 2012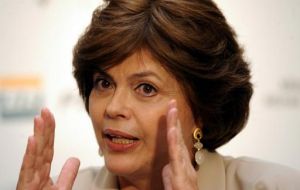 Brazil's economy will pick up speed in 2012, said President Dilma Rousseff on Monday addressing northeast governors concerned that recent announced budget cuts could limit economic activity and support for the area that depends from federal handouts.

"We know that the year of 2012 will be a year of a stronger economic recovery" President Rousseff told governors of the impoverished northeast.

A strong projected increase in the minimum monthly wage next year would help boost consumer demand, Rousseff said. "There will be a significant adjustment to consumer purchasing power."

The lower house of Congress last week approved only a modest increase in the minimum wage for this year. But based on a formula that considers economic growth of previous years as well as inflation, the national minimum wage next year is likely to rise significantly.

Brazil's largest economy expanded by an estimated 7.6% in 2010, putting it among the ranks of fast-growing emerging market powerhouses that left behind still struggling developed economies.

Those gains largely came on the back of Brazilian consumers, who took advantage of relatively cheap credit, tax breaks and a strong currency to pack shopping malls as part of the government's stimuli package of 2009 to counter global recession and extended to boost electoral year 2010.

But economists in the most recent weekly central bank survey saw the economy growing about 4.5% this year, with inflation at 5.79%.

President Rousseff said the government would remain tough on rising consumer prices.

"We're perfectly aware of how to avoid inflationary pressures in Brazil, and we won't let that happen," Rousseff said.

The central bank raised its benchmark interest rate to 11.25% in January from 10.75% to contain price pressures. The clampdown on credit is expected to help keep growth at around 4.5% next year, according to a central bank survey of leading banks published on Monday.

Ms Rousseff told governors that the basic social programs that helped lift millions out of poverty in the last eight years will remain fully implemented and made it a point to decouple the current situation with eight years ago, 2003 when Lula da Silva's Workers Party took office for the first time.

"At that time inflation was out of control, which is not the case now: we're in the target margins of 4.5% plus the fact we have forex reserves of 300 billion US dollars".