Boudou announces strong increase in government tax revenue and surplus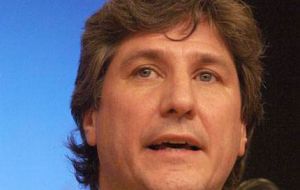 Argentina's primary surplus rose 103.7% and reached 2.1 billion Pesos (522 million US dollars) during January year-on-year, according to Economy Minister Amado Boudou. Tax revenue in January set a new record of 40.7 billion Pesos due to booming economic growth and rising inflation.
In January, spending rose 37.5% on the year, while revenue climbed 40.5%.
Boudou said that he expected the country to continue to maintain a solid primary surplus throughout 2011, ending the year at a minimum of 1.5% of GDP. Argentina maintained a healthy fiscal surplus of 25 billion Pesos throughout 2010, about 45% more than in 2009.
Revenue was up 34.7% in 2010 amid a boom in consumer spending and high inflation. That, among other things, inflated revenue from the country's 21% value-added tax. Revenue from income taxes and agricultural exports whose prices were higher last year also pushed the tax numbers up.
The fiscal surplus, which includes debt payments, in January was 88 million Pesos.
Boudou also mentioned that negotiations with the Paris Club to cancel debt in default since 2001 "are moving forward as we are designing the most suitable payment plan for both parties". He added that "we are doing very well so far. Anyway, it's not an easy task as we have to negotiate with 19 countries to cancel a long-date debt".
Reaching an agreement on the roughly 7 billion US dollars defaulted debt is a key step before Argentina can return to international bond markets. However, Boudou said the country is under no pressure to borrow and does not plan to issue debt overseas this year.