Mining companies increase investments in Chile in spite of rising costs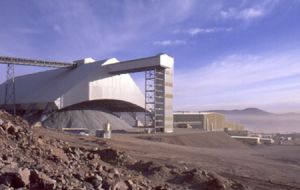 Two major mining companies, Barrick Gold and Collahuasi, both plan to dramatically increase investments in their northern Chile gold and copper operations despite rising inflation and increased production costs.
Barrick Gold, world's largest gold producer based in Canada, raised its investment estimates for the Pascua Lama and Cerro Casele mines from 3.2 billion US dollars to 3.6 billion USD.
Barrick Gold stated that the pressure on capital costs were primarily due to the strengthening of the Chilean peso, inflation, and the increased cost of labour and other commodities. The current estimates are between 20 and 25% higher than previously anticipated.
The company hopes to begin exploration by 2013 and has already committed 40% of the capital.
The Collahuasi mine is similarly planning to invest 470 million USD in a 10-year exploration plan. The Callahuasi copper mine in northern Chile produces almost 3.3% of the world's gold and copper supply, or 535 tons a year.
Like Barrick Gold, the mine recently increased its investment estimates due to rising construction costs. The first phase of the investment, 283 million USD, will begin this year and continue through 2015.
The next phase will receive the remaining investment of 187 million USD over five more years. According to the Collahuasi spokesperson, the exploration campaign will include 3,000 holes covering 1.5mn linear meters.
Though mining companies continue to post record sales, mine revenues are being challenged with rising construction costs, increasing the pressure for mines to accelerate production levels. The increased capital expenditures emerge from higher labour, energy, and raw material costs alongside inflation.
By Tatiana Cary – Santiago Times