Quake's knock to NZ economy estimated in 9 to 12 billion US dollars
Thursday, February 24th 2011 - 16:40 UTC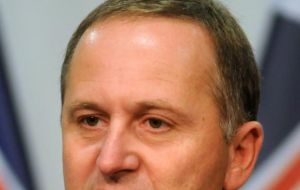 The Prime Minister of New Zealand, John Key, says emergency teams in Christchurch are now focusing on recovering bodies, rather than finding survivors of the earthquake.
He has confirmed that 98 people are known to have been killed in the recent earthquake, and more than 200 others are still missing.
Meantime the US firm AIR Worldwide which specializes in disaster modelling said that the repair bill facing NZ second city, after its second major quake in six months was estimated at up to NZ 11.5 billion (8.6 billion USD)
Another assessment from JP Morgan put the cost closer to NZ16 billion, (12 billion USD) but PM Key said it was too early to gauge the impact of this week's disaster.
However, with at least 98 people dead, all involved in dealing with the aftermath agreed that the damage was far more extensive than the 7.0 quake that hit Christchurch last September, weakening buildings but claiming no lives.
"Last time there was damage to (Christchurch's business district), it was nowhere near as widespread as it is now. Frankly it looks like a scene out of a horror movie," Key told the New Zealand Herald.
Key said the challenges faced by New Zealand farming-reliant economy remained the same and vowed to rebuild Christchurch, but acknowledged that some businesses in the city may never reopen.
While the construction industry might find opportunities, AIR pointed out that business in Christchurch had virtually halted and infrastructure had been hit hard.
In addition to the loss of collapsed buildings, AIR noted that the structural integrity of surviving blocks in the city centre would need to be carefully assessed.
Bank of New Zealand head of research Stephen Toplis said Christchurch represented about 15% of New Zealand's economy.
"So we know from a numerical sense that 15% of the New Zealand economy has now stopped," he said.
Finance Minister Bill English said earlier this month that New Zealand may have suffered a mild contraction in the October-December quarter following a fall the previous three months, signifying a technical recession.
The economy was already struggling to shake off the impact of the previous recession from early-2008 until mid-2009. Moody's Analytics associate economist Katrina Ell said the earthquake was another hurdle.
"The recovery continues to face headwinds from households shunning spending in favour of saving and reducing debt," she said in a research note.
"Tuesday's tragic events could exacerbate this trend, condemning the New Zealand economy to another year of anaemic growth due to forces beyond its control."
English said New Zealand could absorb the cost of the reconstruction and he did not expect it to affect the country's credit rating.
"It's a setback but we can handle it," he said. "These are bigger costs, but we are in a sound enough position to handle it. Or economy is fundamentally sound. This is another knock, but we can take it".