Spanish fishing vessels abandon Montevideo because of costly labour demands
Thursday, February 24th 2011 - 07:38 UTC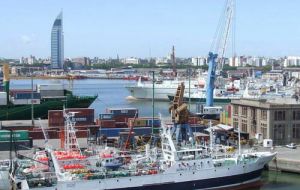 Fifteen Spanish flagged fishing vessels will no longer operate in Montevideo because labour claims disputes with crew members can include vessel seizures or significant collateral deposits demands by the Uruguayan justice before they can return to sea.
The ongoing situation has caused great concern among the Spanish fishing companies, most of which operate in the South Atlantic and also among the Uruguayan companies that provide services to the fleet in the port of Montevideo.
For some time now Spanish vessels which call in Montevideo to discharge catches and re-supply are being exposed to labour demands promoted by solicitors in Uruguay and involving mostly Peruvian crew members.
During 2010 Labour courts in Uruguay proceeded to size ten fishing vessels, most of which were banned from leaving the port of Montevideo until an out of court agreement was reached with the plaintiff crew member, or following the presentation of a hefty collateral.
"There are fifteen vessels which no longer call in Montevideo because of these problems", Manuel Barros, head of Barros agency and chandlers is quoted in the Uruguayan press.
Barros represents many of the vessels from Spanish companies that have gone through this ordeal and revealed that "they are holding meetings to decide if to move to a port in the south of Brazil, so they can avoid Montevideo".
"Currently there are two Spanish vessels in this situation, and so far this year four vessels have faced legal labour demands. In one case a Peruvian crew member is demanding 462.000 US dollars in compensation; it's ridiculous", said Barros.
"Some companies have decided to make trans-shipments in the high seas so as to avoid Montevideo", said Mario Baubeta head of Tranship maritime agency and president of Uruguay's Navigation Centre.
The spate of labour demands which includes impeding vessels from returning to sea is tarnishing the reputation of the port of Montevideo, "this is a notorious lack of legal security", underlined Baubeta.
"It's not so much the labour demands, but the fact that vessels are seized and can't return to sea, that kills the fishing business" said Baubeta.
However the president of Uruguay's National Ports Administration (ANP), Alberto Díaz said that according to his information "only one Spanish company has decided to abandon Montevideo for a port in the south of Brazil".
Furthermore "this company is not sure they made the right decision because they have come across several problems in the south of Brazil".
Baubeta said that the Uruguayan parliament next March will be considering a bill, drafted last year proposing a mechanism by which the fishing vessel involved in the labour dispute and banned from leaving Montevideo can effectively present a guarantee thus avoiding the precautionary seizure procedure which now is discretional for magistrates.
"The bill has the full support from the port community", emphasized Baubeta.
"There are special insurances for this kind of situations in the fishing activity and organizations that manage the collateral support", said Deputy Gustavo Pozzi, one of the promoters of the bill.
Pozzi added that the Uruguayan Parliament would vote on the bill next March and that the alternative guarantees system can be applied to other demands against fishing vessels and companies.