Cuba elected as vice-president of the UN Special Committee on Decolonization
Sunday, February 27th 2011 - 23:23 UTC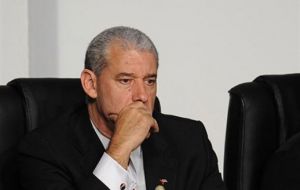 Cuba was elected last week vice president of the United Nations Special Committee on Decolonization, also known as the Committee of the 24, exclusively in charge of promoting a decolonization agenda.
Upon assuming the post, the Cuban UN representative Pedro Nuñez Mosquera thanked the committee for the appointment and said he considered it an acknowledgement to Cuba's commitment to the eradication of colonialism in the world.
Cuba takes on the vice presidency of the committee on the beginning of the third international decade for eradication of colonialism, when there are still 16 non-self-governing territories listed by the UN.
Nuñez Mosquera made it a point to denounce the media "for seeking to silence the claim of the Puerto Rican people for its independence" and accused (the US) for the "repression unleashed in that country against university students".
The Cuban official said the decolonization committee can't remain inactive before such situations. C 24 considers the Puerto Rican situation as a special case and the Cuban delegate promised efforts to include it in the list of colonial territories.
The UN official List of Non-Self-Governing Territories includes Anguila, Bermuda, Caiman Islands, Falklands/Malvinas Islands, Turks and Caicos Islands, British Virgin Islands, Montserrat, St Helena, Gibraltar and Pitcairn, all under U.K control.
The list also comprises US Virgin Islands, Guam and US Samoa (the three under US control), New Caledonia (France), Tokelau (New Zealand) and Western Sahara (former Spanish colony, currently occupied by Morocco).