Former Obama aid elected Chicago mayor; ends 40 years of Daley-family dominance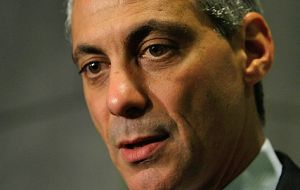 Former White House chief of staff Rahm Emanuel was elected mayor of Chicago in the most competitive city hall election in more than two decades. Emanuel, who is also a former congressman, trumped five rivals with 55% of the vote.
He will now replace Mayor Richard Daley, who has been in office since 1989 and is stepping down. Emanuel needed 50% of the vote to win outright.
President Barack Obama sent his congratulations to his former chief of staff, saying the victory was well-deserved.
"As a Chicagoan and a friend, I couldn't be prouder. Rahm will be a terrific mayor for all the people of Chicago," said the president.
Other candidates vying for the mayor's seat included former Senator Carol Moseley-Braun, City Clerk Miguel del Valle and longtime city official Gery Chico.
Chico received 24% of the vote, while del Valle and Braun each had 9%. Two other candidates each received about 1%. .
The race was the first Chicago mayoral race in more than 20 years without Mr Daley listed among the candidates and the first race in over 60 years without an incumbent on the ballot.
Emanuel, who will become the city's first Jewish mayor, will replace Richard Daley, who was first elected in 1989. His father, also called Richard Daley, was mayor from 1955 until his death in 1976. The Daleys have led Chicago for more than 43 of the last 56 years.
Richard Daley is attributed of having been fundamental in 1059 in helping John F. Kennedy become the first Catholic US president.