UK threatens to pull out of FAO unless it improves its 'patchy' performance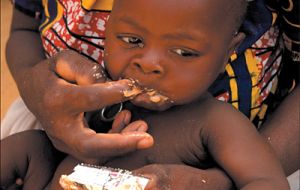 Britain threatened to pull out of the Food and Agriculture Organization (FAO), unless it improves its "patchy" performance. The announcement follows a review of British overseas aid ordered by the coalition government.
By contrast, the Conservative-led government said it would step up support for the FAO U.N. sister agency the World Food Program (WFP), which it said had performed strongly.
The WFP provides emergency food aid after wars or natural disasters whereas the FAO work is more long term, helping countries improve farming practice and nutrition.
The UK Department for International Development (DFID) said it would focus on tackling malnutrition and ensuring more people in poor countries had enough to eat at a time when soaring food prices are causing hardship for millions.
Britain's 6.5 billion pound (10.5 billion US dollars) annual aid budget is one of the few areas that have been spared sharp public spending cuts aimed at curbing the country's record peacetime budget deficit. But the coalition government is keen to show it is getting value for money from its aid.
It spends about 4 billion pounds a year on bilateral aid and another 2.5 billion through international organisations like the FAO or the WFP and has doubts about the FAO performance.
"The review found that FAO performance is patchy, particularly at country level, and that reforms need to be prioritised," DFID said. "If the necessary actions are not implemented satisfactorily and performance does not improve then the UK will consider whether it should continue to be a member of FAO," it said.
DFID said it would give regular funding to the WFP in addition to the funds it provides for specific humanitarian disasters, although it did not say how much.
DFID said it aimed to push forward long-term initiatives to ensure poor people could feed themselves. It said it would back projects aimed at making war-torn Afghanistan 80% self sufficient in food grains by 2016, but did not say what the current figure was.
FAO has been the target of criticism from the United States and others for years. In 2007, a review concluded that the agency risked "terminal decline" after being starved of cash by member states and mismanaged. The agency put in place a reform plan.