World famous solo regatta surprise returns to Uruguay; deterred by violence in Brazil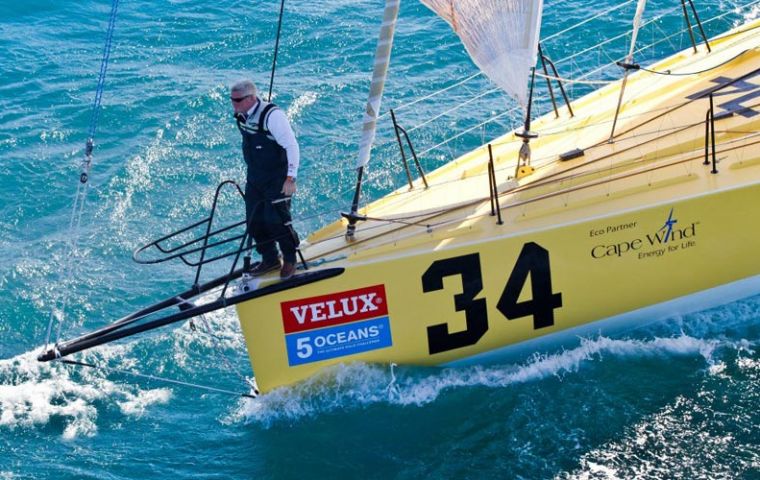 Velux 5 Oceans. The Ultimate Solo Change is unexpectedly returning to Uruguay after twelve years. The four solo competitors are currently sailing along the South Atlantic and the leading yacht is expected to arrive in Uruguay's renowned international resort of Punta del Este late Monday.
According to the latest reports Brad Van Liew with Le Pengouin was leading at an average speed of 11 knots. The other competitors are Zbigniew Gutkowski, Derek Hatfield and Chris Stanmore-Major, all of them in a range of 300 nautical miles.
Originally the solo competition was expected to call in Salvador Bahia, north east Brazil but some of the Danish sponsors of the regatta apparently were mugged and beaten violently while preparing for the arrival, so they decided to change the itinerary.
"The regatta was to call in Salvador, but the main reason for the change was violence in that city which was suffered particularly by a Danish company. That is why together with the sponsors we agreed not to expose or risk the whole competition, and we decided the call was to be in Punta del Este", said David Adams, director of the regatta.
Adams made the announcement during a ceremony at the Punta del Este Yacht Club next to local authorities who praised the return of the solo regatta to the resort after over a decade.
The Punta del Este Yacht Club Commodore Horacio García Patori also revealed that two other global races would be calling in Punta del Este in 2012 and 2013.
On March 27th the four solo competitors are scheduled to leave on the last leg of the competition that will take them to Charleston in the US. The leg to Punta del Este which included the crossing of Cape Horn started in New Zealand.
The Velux 5 Oceans was first launched in 1982 as BOC, with a participation of 17 vessels; in 1986 the number was up to 25 and in 1990 the regatta called in Punta del Este for the first time. The winner was Frenchman Christophe Auguin. In 1994 the competition again calls into Punta del Este, and the winner was David Adams. In 1998 under the name "Around Alone" was the last time the solo yachtsmen visited Uruguay.