EU fears massive exodus of refugees if there's a 'Battle for Tripoli'
Tuesday, March 1st 2011 - 06:31 UTC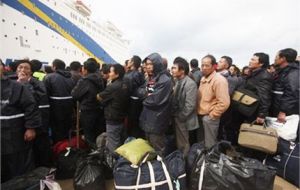 Europe is extremely concerned about the consequences of the instability in Libya which could mean a humanitarian crisis of proportions if Libyans take to the sea and try to reach the European continent in look of food, hope and jobs, warned the EU Commissioner for Food Aid Kristalina Georgieva.
However "the immediate emergency is medical and sanitary because of the growing number of injured and unburied bodies in battle fields", added the EU official.
Doctors, nurses, field hospitals, medicines, food and drinking water are needed to look after the many injured among combatants, and to provide for the innocent civilians caught in the fighting.
Another scenario is in the event of a Battle for Tripoli, and with worsened security and safety conditions there could be a massive influx of thousands of refugees to neighbouring Egypt and Tunisia.
"Let's pray for the best but lets prepare for the worst scenario also" emphasized Georgieva.