Most Libyan oilfields no longer under control of Gadaffi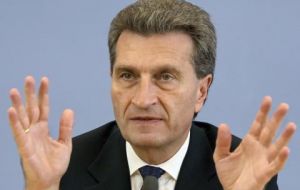 Most of Libya's oilfields are no longer under control of Libyan leader Colonel Muammar Gaddafi, the European Union's energy commissioner said on Monday.
"There is reason to believe most of the oil and gas fields are no longer under Gaddafi's control," Guenther Oettinger told a news conference in Brussels. "Instead we have provisional (regional) leaders who have taken control," he said, adding there was therefore no point in blockading Libyan energy shipments. "We would be punishing the wrong people," he said.
Many of Libya's key oil producing areas and terminals are located in the east of the OPEC member state, large chunks of which have fallen to rebels seeking to oust Gaddafi.
Oettinger spoke after EU ministers approved a package of sanctions against Gaddafi and his closest advisers, including an arms embargo, asset freezes, and travel bans, in response to his attempts to suppress anti-government unrest.
"Production suffered a breakdown but exports will resume", said Oettinger who added that Libyan gas and oil represent 3% and 10% of European consumption, "Besides the EU has important reserves and OPEC members and Russia have anticipated their willingness to pump additionally".
According to OPEC, Libya is among the four leading oil and gas African producers with an output estimated at 1.69 million BPD of which 1.49 million are exported, 85% to Europe, mainly Italy.