Presidenta Rousseff: "Brazilian young girls can now aspire to become president"
Wednesday, March 2nd 2011 - 07:17 UTC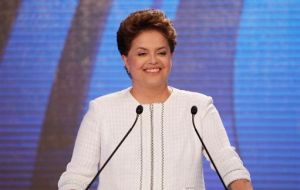 President Dilma Rousseff praised Brazilian women on a popular television program for having helped her "open the path for all young girls who dream of becoming president" and reiterated her administration's commitment to combat poverty which has the face of 'women and children'.
"The most important thing about being president is that all young girls are going to aspire to become presidents and it will be seen as something very common, that in Brazil women have the opportunity to become President" said Ms Rousseff on the program 'Mais Voce', on Globo television in Brazil.
Her participation on the program, where among other things she showed her culinary expertise by preparing a cheese omelette and for the first time talked about her fight against cancer, was filmed on Monday in the Globo studios in Río de Janeiro, as part of Rousseff's campaign celebrating the 'Month of the woman', in March.
The Brazilian government began showing different conquests that women have achieved over recent years in Brazil through different radio and television programs.
She also mentioned that her becoming president marked a break of a paradigm attributed with 'machismo' with the female image changing to being seen as 'strong' and 'tough', as she has been described.
Rousseff said "women are expected to be fragile and weak, and when a woman rises to a powerful position, with authority, it's seen to be far from her traditional role".
The Brazilian president has also ordered that in all official documentation, she be labelled 'presidenta', president in its female form, despite doubts made about the linguists.
Speaking about her long successful struggle against cancer, Ms Rousseff admitted "you walk out different, much stronger"
Finally she said that women and children are the main targets of her project to end with poverty and misery in Brazil. "Poverty in Brazil has a face and an origin. It's most feminine, linked to women and children. We're going to change that".
"I'm convinced that a policy to eradicate poverty must be addressed to the children and the women. We will target mothers that will protect their children", said Brazil's first elected woman president.
Ms. Rousseff was elected October 2010 and took office last January first.