World's richest man opens impressive museum (66.000 pieces) in Mexico City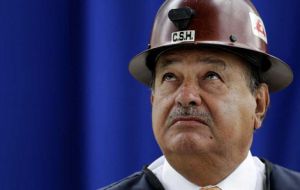 The reputed world's richest man Carlos Slim inaugurated a massive museum in Mexico City on Tuesday to house his eclectic collection of art ranging from pre-Hispanic pieces to sculptures by French masters.
In a glitzy event hosted by TV personality Larry King, some 1,500 guests ranging from Mexico's president Felipe Calderon to Nobel Prize winning author Gabriel Garcia Marquez toured the asymmetrical building that will be opened to the public later this month.
Located in the heart of one of the capital's poshest residential areas, the Soumaya museum -- named after Slim's late wife -- will host some 66,000 pieces in six exhibit rooms, making it one of the biggest in Latin America.
Slim, worth 53.5 billion US dollars according to Forbes magazine, made his fortune in telecommunications and now controls retail stores, mining and oil drilling firms. He credits his wife Soumaya, who died in 1999, for giving him his interest in art.
The museum will be home to one of the world's most important collections of Auguste Rodin's sculptures and also prominently displays works by Mexican muralists Rufino Tamayo and Diego Rivera.
Emilio Azcarraga, the head of Mexico's largest broadcaster Televisa, briefly attended the gathering even though the two tycoons are fiercely battling to enter each other's core markets. The fight heated up last week when Slim pulled advertising from Televisa over fees.
Designed by Mexican architect Fernando Romero, Slim's son-in-law, the building is covered with of thousands of hexagonal aluminium panels that reflect sunlight.
Carlos Slim plans to build a huge development anchored by the museum that will include offices, apartments and shops with a price tag of 750 million USD for the first phase of construction.
Slim, 71, said the museum aimed to boost "human development" in the country, underlining that there would be no entrance fee. The museum opens to the public on March 29 and includes a six-story exhibition space, a 350-seat auditorium, a public library, a cafeteria, lounge and warehouses.
For the past 16 years, part of the collection has been housed in a smaller museum in the south of the capital, which will remain open.