Antarctic tour operators support prosecution of Berserk yacht owner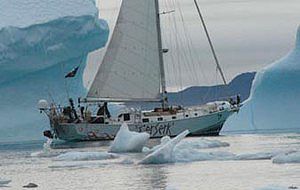 The International Association of Antarctic Tour Operators, (IAATO) in a statement released Thursday called the incident of the Norwegian yacht Berserk that went missing in Antarctic waters last week 'tragic' but also underlines the vessel did not have proper authorization or permits for their expedition and fully supports Norwegian prosecuting authorities for their investigation into the case.
IAATO points out that Berserk and its Norwegian owner/operator Jarle Andhoy are not IAATO members, and did not have proper authorization or permits for their Antarctica expedition. Furthermore the Berserk group contacted a number of IAATO members at the beginning of the Antarctic season requesting logistical support for their expedition and "all of these members declined, due to the lack of required documentation on the part of Berserk and its owner".
IAATO is an international, member-based organization dedicated to safe and environmentally responsible private-sector travel to Antarctica and for 20 years have worked collaboratively with national authorities to successfully integrate Antarctic Treaty System authorization protocols, as well as IAATO guidelines and contingency plans into their diverse business models.
On Tuesday, February 22, the Berserk was sailing 18 nautical miles off the coast of Antarctica when it activated its emergency locator beacon. Massive storms were hitting the area at the time, and the high winds and rough waters prevented rescue operations from commencing for more than 24 hours.
By the time search and rescue teams hit the area, the beacon was no longer transmitting and the yacht could not be reached by radio. It was believed that the ship had five passengers on board, but two of them were later found, alive and well, on the Antarctic continent, where they were embarking on a journey to the South Pole.
The story took an ominous turn later in the week when an abandoned life raft was discovered adrift in the ocean, with no sign of passengers.
IAATO underlines that it provides extensive educational materials and information on safety standards for Antarctic bound yachts, even those who are not IAATO members.
Practical information is available about the harsh conditions that can be expected in the region, as well as links to national requirements for visiting the continent (see www.iaato.org/yachts.)
Finally, "we understand that the Norwegian Polar Institute, as the competent authority, has decided to formally report the leader of the Berserk expedition to Norwegian prosecuting authorities for violations of Antarctic regulations, and we fully support that decision".
"Our sympathies go to the families of those who appear to have been lost. We note the impressive effort of Rescue Coordination Centre of New Zealand who managed the search efforts so well during a time of great difficulty for the citizens of that country.
"We also thank our member company Heritage Expeditions that deviated their vessel Spirit of Sydney (also known as Professor Khromov), and HMNZS Wellington in the search for Berserk".