Brazilian economy expanded 7.5% in 2010; government applies 'cooling' measures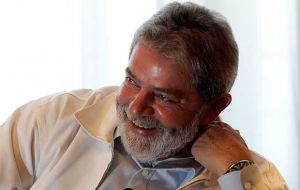 Brazil grew at its fastest pace in 24 years in 2010, expanding 7.5% on strong consumer demand but other complementary data also showed the economy is feeling the strains of overheating.
Fourth-quarter growth of 0.7% marked an acceleration from a revised 0.4% in the third quarter, but fell just short of the 0.9%t median forecast of market analysts.
Household consumption, which has been a main pillar of Brazil's economic boom in recent years, rose a brisk 2.5% in the fourth quarter from the previous three months as Brazilians continued their shopping spree.
But industrial output contracted 0.3%, highlighting the burden of a strong national currency on Brazilian businesses, while agricultural production in one of the world's main breadbaskets slipped 0.8%.
Neil Shearing, an economist at Capital Economics in London, said the data confirmed a "modest pickup" toward the end of the year that was driven largely by consumers.
"The bigger concern is that it's a two-speed growth story: consumers remained the key driver of growth and exporters are lagging behind in this recovery," he said.
The rapid growth last year, driven by record-low unemployment and a confident new middle class of consumers, crowned the presidency of Lula da Silva, who bowed out last year with an approval rating in the upper 80%.
His hand-picked successor Dilma Rousseff now has to deal with inflation running above 6% annually and a fiscal black hole that was largely caused by loose government spending under Lula da Silva that helped her get elected last year.
With the 'macro-prudential' package Brazil's economy is expected to slow to a more sustainable pace of below 5% this year as it feels the effects of higher borrowing costs and fiscal belt-tightening. GDP grew 5.0% in the fourth quarter when compared to the year-earlier period.