Venezuelan president proposes peace commission to mediate in Libyan conflict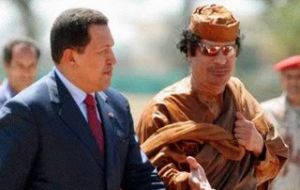 Venezuelan President Hugo Chavez spoke with embattled strongman Moammar Gaddafi and discussed creating a multinational commission to mediate the unrest in Libya, according to an internet message posted Wednesday by a Venezuelan government official.
Government spokesman Andres Izarra, on the social networking site Twitter, confirmed the conversation and stated that the leaders spoke Tuesday.
"We are confirming the conversation of Commandant Chavez with Gaddafi yesterday on the proposal of a Peace Commission for Libya," Izarra wrote. He didn't provide any further details.
Citing Libyan state media, the BBC also reported that the allied leaders held a conversation Tuesday during which Chavez was said to have assured Gaddafi of "the solidarity of (Venezuela) and the rest of Latin America" with the Libyan people.
Chavez first mentioned the peace mission proposal earlier in the week in a televised speech during which he also said the U.S. was exaggerating events in Libya to justify an invasion.
Chavez proposal is for a commission made up of several countries to talk with both sides in the Libyan conflict and thus avoid the bloodshed.
"I'd say we look for an option among ourselves, I'm sure many governments would support us in finding a political solution. Instead of sending marines and aircraft, why not send a good will delegation to try and help so people stop killing each other?" asked the Venezuelan leader.
Chavez has also recalled on several occasions his friendship with Gaddafi and has stated it would an act of 'cowardice' to blame the dead on the government of Libya, 'without knowing what is really going on in that country".
He added that from the distance "I'm not going to condemn someone who has been a friend for a long time without knowing exactly what is happening".
The conversation between the allied leaders took place on the same day that the U.N. General Assembly suspended Libya from the U.N. Human Rights Council because of violent government crackdowns in the North African nation.
Venezuela's U.N. envoy, Jorge Valero, defended Libya saying that the suspension was premature given a pending Human Rights Council investigation. Valero also echoed Chavez's accusations against the U.S., saying a military attack was being plotted to capture Libya's oil reserves.
In response, the U.S. ambassador to the U.N., Susan Rice, said Valero was "living in a fantasy world" and called his statement "shameful."
On Wednesday, senior U.S. defense officials tried to lower expectations of an international military intervention in Libya, where military rebels and civilian opponents of the government were attempting to topple Gaddafi.