Democracy in Latam, a success story 'except for Cuba, Venezuela and Nicaragua'
Friday, March 4th 2011 - 01:31 UTC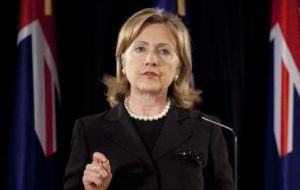 Latin America is enjoying growth and stable democracy with the "notable exceptions" of the leftist governments of Cuba, Nicaragua and Venezuela, Secretary of State Hillary Clinton said Wednesday.
Clinton had special praise for Brazil, Chile and Colombia in testimony to the Senate Appropriations Committee as she discussed her proposed 2012 budget.
Latin America, "with notable exceptions like Cuba and a few others like Venezuela and Nicaragua," has "moved into an era of sustainable democracy and economic growth," Clinton said.
Brazil "is booming," Clinton told the senators. "It is a real success story."
"They have the highest tax to GDP (gross domestic product) ratio in the hemisphere," she said, "and they use that money to invest in social inclusion, improve their education and health systems."
Chile "similarly has good leadership and made good investments," Clinton said, while there has been "a successful US partnership" with Colombia regarding its war with leftist guerrillas and Bogotá's crackdown on drug trafficking.
The head of US diplomacy was in Congress to defend her 2012 budget and underlined State Department policies that have helped and sponsored democracy and institutional consolidation in Latin America.
Ms Clinton admitted the region often "does not receive the attention it deserves" but she underlined that President Barack Obama would be travelling to Brazil, Chile and El Salvador March 19/23.