Strauss-Khan describes IMF/Argentina relation as 'romance" with love-hate periods
Friday, March 4th 2011 - 06:19 UTC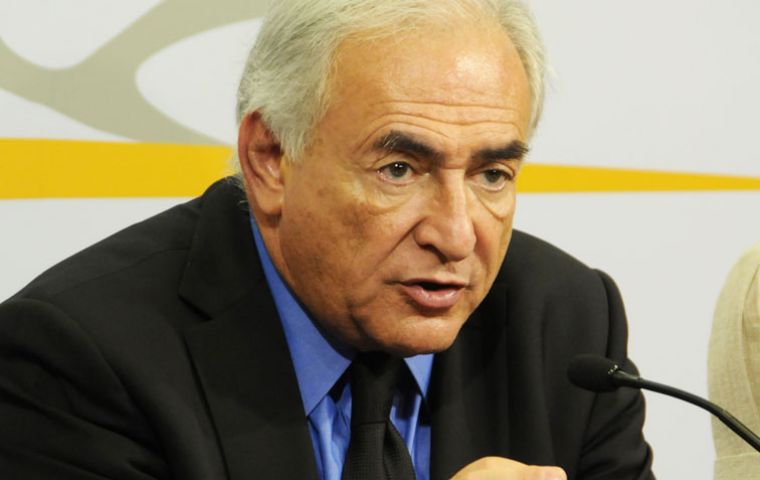 The IMF relation with Argentina is like romance with its ups and downs, said IMF Managing Director Dominique Strauss-Khan who added he trusted that the IMF technical mission that will be visiting Argentina to help elaborate a new retail prices index would achieve "significant advances".
The question was asked by an Argentine journalist this week during the IMF chief visit to Uruguay (and Brazil) skipping Argentina.
"Its' no secret that relations between the IMF and Argentina have been a kind of romance with its hate-love periods", said Strauss-Khan. "But now we are in a love period, which is difficult because it means forgetting part of the past, you can't forget the whole past" he added recalling that an IMF mission will be collaborating with Argentine officials with a new inflation index.
"I think the fact Argentine authorities have accepted this mission is very positive and I trust that the first approach will happen soon, and when it returns it will be possible to see significant advances", pointed out the IMF chief who then kidded, "if that happens we'll invite you to the wedding".
Speaking on the US dollar and world currencies Strauss Khan said "the more fear people had about their economies they looked for a safe harbour and after all the US dollar continues to be that option. And the value of the US dollar remains the same"
Nevertheless "I think that gradually we are moving towards a multi-money world in which the Euro, the Yen or the Chinese Renminbi (Yuan) has a growing role as international foreign reserves. Maybe there's even room for the IMF quasi-money SDR (Special Drawing Rights) but that is going to be a very slow process".
Further on the said that world recovery is on course, but "fragile because it is very uneven" and warned that a sustained period of high oil prices or the political situation in Arab countries could have an impact in the process.
"Everybody is very happy because people are regaining freedom, but we also have to be careful this does not have an impact on the economy", warned Strauss-Khan, "we must follow closely what happens in the Middle East".
Asked about what impact can be expected if the Chinese people advance on the path of democracy (jasmine revolution), as is happening in Arab countries, the IMF chief said "mush depends on the rhythm".
"I think the development of a market economy leads to democracy, but it takes time and in the case of China, the world's second largest economy, if it is too quick it can become highly destabilizing for the global economy".
Therefore, the "softer the process, the better. Although I am convinced that the road to democracy can't be stopped anywhere in the world"