Flying with the Albatross
Monday, March 7th 2011 - 13:43 UTC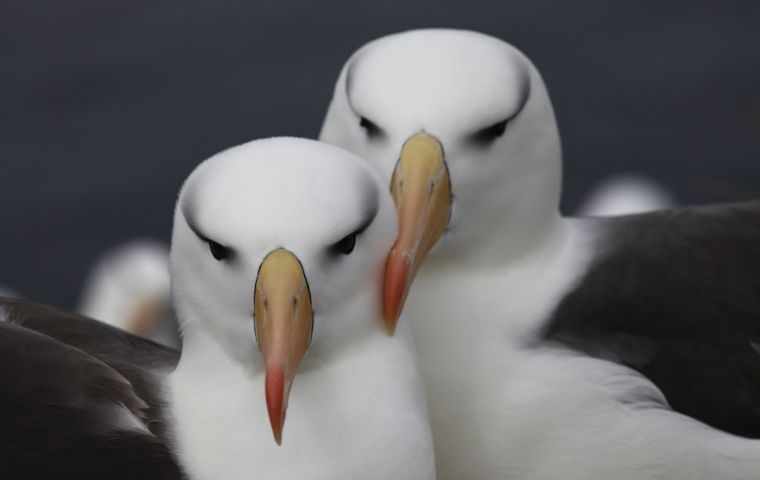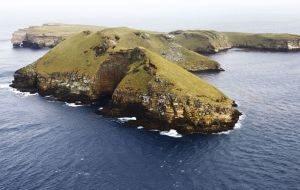 THE British Royal Navy and the company British International helicopters have been assisting Islander conservationists in vital surveys of the majestic Black-browed albatross in the Falkland Islands.
A team of five from the New Island Conservation Trust took to the air late last year in order to carry out further surveys of the colonies - almost immediately after the 2009 aerial photographic surveys had been analysed.
Trustee Ian Strange said, "Following the same pattern, same timing and using the same methodology developed over a number of years, the objectives were also the same. Refining aerial photographic survey skills was one aim: a system which can now be used to count albatross precisely and even define if they are on new or old nests. Confirming whether or not this new breeding season in the Falkland Islands has brought back the increasing numbers of potential adult breeding pairs shown by our surveys in the last twenty-five years, was a further aim."
He explained that following the Trust's all-Island survey in 2005 surveys have been made of approximately a third of the twelve Black-browed albatross colonies in the Islands every year since. This most recent survey was planned and was successful in covering all colonies. The results of the annual surveys made between 2005 and 2010 have been interesting said Mr Strange: "With the high upward trend in the albatross population shown in our 1986 to 2005 surveys, our expectation had been for a levelling of the population. Although dips occurred in the population at some sites in some years, the overall Island trend is for an increasing population. A similar pattern was found in this present survey with one colony, showing a 2.3 % decline since 2005, but with the remaining eleven sites showing increases of between 1.2 % and 62% with an average increase for the total Island population of 23 %."
The process of counting each individual bird on a nest, carried out from digital images on a 24 inch high definition screen, is a very slow process. Nearly 780 images were taken of the twelve colonies in the Falklands; from these, 373 were selected for counting. Counting is then carried out by selecting and marking individually those nests occupied by a bird. For the 2010 survey, the counting process took over ten weeks to complete. Different researchers, depending on their requirements, will employ different counting units with ground survey methodology. No system will be perfect, but aerial photographic surveying of albatross populations in the Falkland Islands, by its very simplicity has demonstrated that it is a powerful tool said Mr Strange.
He said, "What our aerial survey photographs do show, through undisputed imagery, is that the albatross in the Falkland Islands are presently doing well and are not in decline. Hopefully this is a rewarding note to all those landowners and individuals who have supported this view from their own observations over the years. It has also been especially gratifying that our independent surveys and the methodology is being recognised and given support, not just by many individuals, but by organisations such as FIFCA (Falkland Islands Fishing Companies Association). We can only hope that larger international conservation organisation, who have a strong voice in the conservation world, will see the wisdom in presenting the reality of the Falkland population of Black-browed albatross in a better light. To support the efforts that are made in these Islands we should not be used continually as part of the declining albatross population of the world view."
Following the 2010 survey, assistance was given to the FIG's Environmental Planning department, as part of FIG's commitment to ACAP (Agreement on the Conservation of Albatross and Petrels) in a separate survey. Aerial survey photographs were taken of some albatross colony sites in conjunction with ground counts, this cooperative effort the Trust hope will go some way to understanding the value of aerial survey methodology.
Mr Strange said, "I would like to thank British International Helicopters, the Captain and flight of HMS Gloucester, and BFSAI for their support. To landowners for their supporting information and the help given by FIFCA and Monika Egli."
More info: www.falklandswildlife.com
By Lisa Watson – SeAledPR – Stanley