Falklands/Malvinas: Timerman calls for dialogue and lobbies G24 members
Tuesday, March 8th 2011 - 11:15 UTC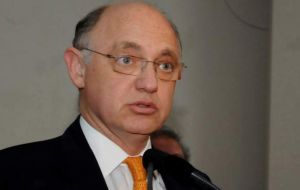 Foreign Affairs minister Hector Timerman renewed Argentina's claims over the disputed Falklands/Malvinas this time before the new authorities of the G-24 or UN Decolonization Committee, who according to Argentine sources rejected "all forms of colonialism and occupation".

During the meeting which took place last week at the United Nations Argentine ambassador's office, Timerman underlined 'the renewed significance Argentina attributes to G24 since it addresses the Malvinas Islands issue", as well as "other important colonialism issues".

Attending the meeting were the Cuban ambassador Pedro Núñez Mosquera, his peer from Syria Bashar Ja'Afari and Rupert Davies from Sierra Leone all of which "said they would continue working in support of the Argentine Malvinas position and rejected all forms of colonialism and occupation".

The G24 president, Ecuador's Francisco Carrión-Mena did not attend since he had to travel urgently to Quito.

Timerman also mentioned the recent talks he held in Geneva with United Nations General Assembly president, Joseph Deiss from Switzerland whom he asked for 'advise' about how to deal with a member from the Security Council 'that does not abide what the very organization states".

"Because the truth is I did my best to contact (UK on the Malvinas issue) and I will continue, but honestly maybe you have some idea" as how to approach the issue Timerman recalled of his talk with Deiss.

"Argentina wants to sit to negotiate, in peace; we don't aspire to impose anything; we simply want the UN mandate to be followed", said the Argentine official insisting on 'dialogue'.
"Can it be possible that after sixty years when there is so much participation of all committees such as human rights, there are still countries which insist with colonialism and the occupation of territories in other countries" and that is an issue "that must be taken into account".

"After sixty years, this is a shameful situation", underlined Timerman.

"If the UN continues to adopt resolutions for a dialogue between the two countries (Argentina and UK), this dialogue must take place, if not some form of sanction must be adopted against those countries that do not accept or abide UN resolutions", said the Cuban delegate.

Finally Timerman, according to a release from the Argentine Foreign Affairs ministry, mentioned to the G24 delegates the "growing support that Argentina continues to receive from regional organizations" and specifically mentioned recent resolutions from Unasur, Mercosur and the Rio Group, regarding 'unilateral UK activities" referred to hydrocarbons and military issues.

Timerman also thanked G-24 members for "the renewed call every year, on both sides to dialogue" so as to reach a peaceful solution to the Malvinas Islands sovereignty dispute.