Refuge crisis in Libya: over a million people fleeing says UN
Tuesday, March 8th 2011 - 04:58 UTC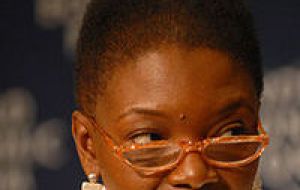 More than one million people fleeing Libya and inside the country need humanitarian aid, the United Nations said on Monday. The figures were issued by the world body's aid coordinator Valerie Amos as a refugee crisis built up around the borders of the North African country where a rebellion broke out last month against the 42-year rule of Muammar Gaddafi.
Amos made clear that her first priority was Misrata, a rebel-held town of 300,000 which residents said had been attacked at the weekend by government forces with tanks and missiles that cut insurgents to shreds.
"Humanitarian organisations need urgent access now," said Amos, who was in areas of Tunisia along the Libyan border at the weekend. "People are injured and dying and need help immediately."
Misrata has been held by anti-Gaddafi rebels since the uprising began but is isolated from insurgent strongholds around the city of Benghazi in the east of the country, towards which Gaddafi's forces were advancing on Monday.
In New York on Sunday, the office of U.N. Secretary-General Ban Ki-moon said he had agreed in a telephone call with Libyan Foreign Minister Musa Kusa that the world body would immediately send a humanitarian team to Tripoli.
"I call on the authorities to provide access without delay to allow aid workers to help save lives," said a statement from Amos. "I would also remind all concerned to ensure that civilians are protected from harm."
The agency -- the Office for Coordination of Humanitarian Affairs -- said it was seeking 160 million US dollars from international donors to fund operations over the next three months to help refugees and Libyan nationals.
That sum was based on projections of up to 400,000 people leaving Libya -- including the 200,000 who have already fled -- and on helping "another 600,000 people inside Libya expected to need humanitarian aid".
At the weekend, the Geneva-based International Organisation for Migration (IOM), which works with the U.N., said a total of 207,756 people had crossed into Egypt, Tunisia and Niger.