London with no Argentine ambassador until at least 2012 to protest Falklands' oil round
Thursday, March 10th 2011 - 06:56 UTC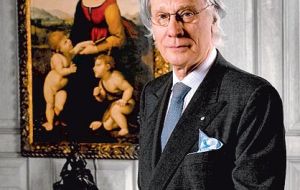 The Argentine legation in London will remain without an ambassador until at least the end of President Cristina Fernandez de Kirchner four year mandate next December, confirmed diplomatic sources in Buenos Aires. The decision was originally taken to protest the current (second) round of oil exploration in the Falkland Islands' waters.
Jose Nun, a former Secretary of Culture had been nominated to fill the post in London but the Kirchner administration decided to the contrary when exploration for oil in the waters of the disputed South Atlantic Islands was launched by the Falklands' government and supported by the former Labour government and later by the current Conservative-liberal coalition.
The last ambassador Federico Mirré nominated in 2003 left his post at the end of his years in 2008.
The issue of vacant embassies was brought up in Buenos Aires since besides London, and for different reasons twelve other posts remain vacant, particularly two crucial trading partners of Argentina: the embassies in Beijing and Moscow.
Moscow has no Argentine ambassador since last October 30 when Leopoldo Bravo died. He had been on the job since 2005. In spite of claims from different sectors, because Russia is and has been an important trade partner, there are no signs of any nomination.
In Beijing the administration of President Cristina Fernandez last January decided to end with Ambassador Cesar Mayoral following a long list of misunderstandings with the Chinese government and the cooling of bilateral trade relations.
Argentina is China's main supplier of soy-oil with an annual turnover of several billion US dollars. The name of current consul in Chicago Gustavo Martino a trade and agriculture expert has been mentioned as a possible candidate for Beijing.
Buenos Aires diplomatic sources attribute much of the problems to the current Minister of Foreign Affairs Hector Timerman, (also referred to by the media as Twiterman for his propensity to send messages).
He has been involved in several unfortunate incidents, the latest of which the seizure of equipment on board a US Air Force transport. US/Argentina relations are strained over the incident in which Mr Timerman personally checked the aircraft, made a list of what was found on board and allegedly not declared, and went as far as forcing open several locks..
The Kirchner inner circle is also suspicious of Timerman who is considered a last minute "ultra-Kirchnerite" desperate to jump onto the bandwagon. He made several political statements regarding the possible re-election of Mrs. Kirchner that were considered precipitated and non timely.