Moody's downgrades Spain's sovereign debt rating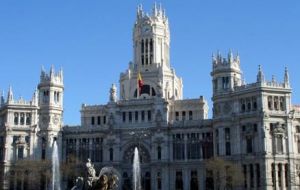 Moody's Investors Service on Thursday slashed Spain's sovereign debt rating by a notch to Aa2 with a negative outlook, saying it was uncertain about the country's ability to improve its finances.
In a statement, Moody's said it had also taken action because it feared Spain's massive bank restructuring plan would cost too much.
The statement said Moody's expected "the eventual cost of bank restructuring will exceed the government's current assumptions, leading to a further increase in the public debt ratio".
It voiced "concerns over the ability of the Spanish government to achieve the required sustainable and structural improvement in general government finances, given the limits of central government control over the regional governments' finances".
It also cited "the background of only moderate economic growth in the short to medium term".
Moody's removed Spain's top Aaa rating in September last year and said in December it was looking at a further downgrade.