Petrobras abandons oil exploration in Cuba; all eyes set on Repsol-YPF
Thursday, March 10th 2011 - 22:35 UTC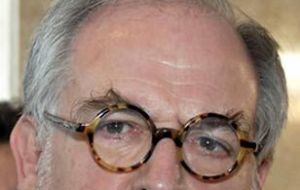 Brazilian oil giant Petrobras has withdrawn from an offshore oil exploration block in Cuba's waters that it leased amid great fanfare in 2008, a Brazilian official said on Thursday, citing poor prospects.
Marco Aurelio Garcia, foreign policy adviser to President Dilma Rousseff, told reporters in Havana exploratory work off Cuba's northern coast had not shown good results and that Brazil wanted to concentrate on its own oil fields.
Asked if state-run Petrobras had abandoned the offshore Cuba block, he said: "Yes, that was already decided some time back. Petrobras withdrew from that (block). We're sorry, but the truth is you have to work with tangible elements and there wasn't any security of that in this block".
Petrobras signed up for one of Cuba's 59 offshore blocks in October 2008 in a Havana ceremony attended by then Brazilian President Lula da Silva and Cuban President Raul Castro. Lula da Silva had vowed Petrobras would find oil for Cuba heavily dependent on imports from oil-rich socialist ally Venezuela.
The Petrobras block was just offshore from Cuba's biggest oilfield, east of Havana.
Garcia apologized for Brazil deciding to drop its Cuban block. "We're very sorry and the truth of things is that ... Brazil will have to concentrate on our prospecting," Garcia said in a press conference. "You know that we now have big reserves, maybe one of the biggest reserves in the world."
Cuba's offshore oil hopes now ride even more heavily on Spanish oil company Repsol YPF, which is expected to bring a Chinese-built drilling rig to Cuba in August. Repsol, in partnership with Norway's Statoil and India's ONGC, plans to drill at least one well, then pass the rig over to Malaysia's state-owned oil company Petronas.
The oil industry is watching the Repsol project closely and if it finds significant reserves, more companies are likely to want to explore in Cuban waters. Repsol drilled an offshore well in Cuba in 2004 and said it found oil, but that it was "non-commercial."
The US Geological Survey has estimated Cuba has about five billion barrels of oil offshore.