Argentina creates first political wine: 'El Justicialista' to honour President Peron
Saturday, March 12th 2011 - 05:43 UTC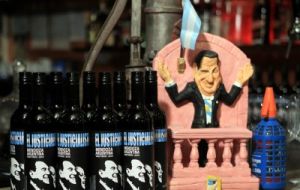 Three times Argentine president Juan Domingo Peron has his own brand of wine, "El Justicialista" following on the name of the populist movement the General founded in the late forties last century and has dominated Argentina politics ever since.

The heavy red has been elaborated to the taste of the Peronist populist militants and has an almost captive market since this is an electoral year, according to its promoters.

Although the "General" loved Malbec, Argentina's most famous grape, the wine to his memory is a blend of bonarda, sangiovese and syrah with a touch of cabernet. "It's the first political wine in Argentina" said Herbert Ditsch, who together with his brother Helmut, one of the most renowned Argentine plastic artists, is behind the creation.

"It's a good wine, with a simple structure, fruity flavoured and cost accessible, in the range of 5 to 6 US dollars the bottle.

Helmut designed the label in black with the figures of President Peron and his second wife and political brains Evita, in white and the brand name in the Argentine colours sky-blue and white. The design is basically from the forties when the Peronist movement took off, although with 'a modern esthetics touch, minimalist with no aristocratic symbolisms' as many luxury wines with their golden labels.

The official presentation of the wine took place in downtown Buenos Aires in a resto-pub with the name "Peron, Peron" and the attendance of several Argentine cabinet ministers and high government officials.

The idea of the "El Justicialista" was born several months ago when the Ditsch brothers were sharing a meal with other political militants and realized that wine as a 'Dionysus art expression' was not incorporated "to this kind of events".

"So then we asked ourselves why not a Peronist wine, accessible and high quality that as a centre piece at meals was enjoyable for the group, and was distinctively a Peronist symbol?", said Herbert whose family have vineyards and a winery in Mendoza, where the best Malbec comes from.

"El Justicialista"is promoted as a "national and popular" wine, a slogan which identifies the followers of President Cristina Fernandez de Kirchner.
"We're defending a model. Much is at stake at this coming October election because we are defending a model (Kirchner's) because if not we'll fall back into neo-liberalism" argues Herbert.

The wine is to be sold at supermarkets and restaurants, although they are expecting wholesales to the labour unions which in Argentina are mostly Peronist.

"Besides, since it's a political wine and this is campaign year it could be we run out of stocks because the party might order the whole production" claims Herbert.

However the Ditsch brothers admit that El Justicialista is not only limited to grassroot hard core Peronists, 'some gorillas (anti-Peronists) have tried it and are delighted with its 'flavour and fragrance'.

Similarly with some tourists that have tried it a the 'Peron, Peron' resto-pub.

But the Ditsch brothers are not entirely satisfied and are working on another Peronist 'brewed-project': beers dedicated to the mythical figures of El General and his iconic wife Evita.