Dangerous neurotoxin could be responsible for massive death of fish in California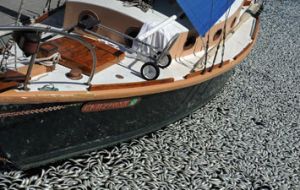 Dead fish found in the King's Harbor Marina in Redondo Beach, California, this week have tested positive for a dangerous neurotoxin. The California Department of Fish and Game originally blamed the die-off on oxygen deprivation.
Although officials sent samples of the fish to their laboratory for toxins and results will not be published until this week, an independent team of researches at the University of Southern California took their own samples and found that the fish had high traces of domoic acid.
David Caron, University of Southern California biologist whose lab tested the fish, said that low oxygen levels in the water did probably cause the sardines to suffocate, however it is also possible the toxin may have been one explanation for why the fish were in the marina in the first place.
The traces of domoic acid may mean that the sardines were distressed off the Los Angeles coastline and swam into the Redondo Beach marina.
Caron's lab is now trying to determine if the poisoning was caused by a toxic algae bloom noticed near Redondo Beach last Wednesday.
Domoic acid is common in fish that have been feeding on plankton during toxic algae blooms. The toxin has been linked to neurological disorders, illnesses and deaths in seabirds, sea lions, sea otters and whales.
"There were tons of birds feeding on these fish and it's conceivable that we'll see some bird mortality as a result," Caron said.
Millions of sardines covered the ocean floor of the King's Harbour marina last week causing a stench in the area. City and volunteer crews have been working around the clock to clean up the fish.
Mike Gin, Mayor of Redondo Beach, said at mid week that about fifty tons of fish had been collected thus far, but at least another 30 tons are believed to remain. The remains of the fish were sent to a center in Victorville, CA where they will be used for compost.