India becomes world's top weapons importer; US largest exporter, says SIPRI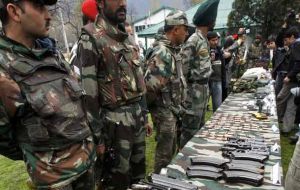 India replaced China as the world's top weapons importer, according to a study by the Stockholm International Peace Research Institute, SIPRI, as it aims to modernize its armed forces and project power through the region.
India received 9% of the volume of international arms transfers from 2006 to 2010, with 82% of that coming from Russia, Sipri said in a report released today. That topped China, South Korea and Pakistan, it said.
"The increases are substantial, and if you look at the Indian plans for the near future, they are massive" pointed out Siemon Wezeman, a Sipri researcher. "It's worrying from the fact you are bringing a lot of weapons into an area that isn't particularly stable, where you've got countries that have been at each other's throats."
India's internal security threats and rivalries with Pakistan and China, the nuclear-armed neighbours with which it has border disputes, have driven the increase in expenditures, Wezeman said. The country's plans to boost defence spending in the next decade to modernize the military have attracted U.S. and European firms banned from selling weapons to China.
The average volume of worldwide arms transfers in 2006-2010 was 24% higher than in 2001-2005, the report said. The Asia-Pacific region led the world, accounting for 43% of arms imports. It was followed by Europe at 21%, the Middle East at 17% and the Americas at 12%.
India's 1.3 trillion US dollars economy may expand by as much as 9.25% in the next financial year, the fastest pace since 2008, according to a Finance Ministry survey released last month. The World Bank estimates that more than three-quarters of India's 1.2 billion people live on less than 2 USD a day.
Purchases by India of submarines, aircraft carriers and transport airplanes "can only be seen in the framework of regional ambitions" Wezeman said.
India is seeking to buy 126 warplanes in the world's biggest fighter-jet purchase in 15 years, according to the Indian Defence Ministry. Paris-based Dassault Aviation SA, Chicago-based Boeing Co, Bethesda, Maryland-based Lockheed Martin Corp., Sweden's Saab AB, Russia's United Aircraft Corp. and European Aeronautic, Defence & Space Co., based in Paris and Munich, are competing for the contract.
The outlays on weapons have allowed India to demand technology transfers as part of purchases, Sipri said. The U.S. and Europe have banned weapons sales to China since the 1989 Tiananmen Square crackdown. US military officials have questioned China's motives in developing ballistic anti-ship missiles and radar-evading fighter jets.
India is "in a position where they have this huge market at a time when exporters are in desperate need to find export markets," Wezeman said.
The US remains the world's largest exporter of military equipment, accounting for 30% of arms deliveries between 2006 and 2010, the report said. The Defence Department is requesting 671 billion USD for the 2012 fiscal year starting October first, 37 billion USD less than this year's request.