Why CFK turned her back on the Obama-mania spell and returned to Chavez
Monday, March 14th 2011 - 06:53 UTC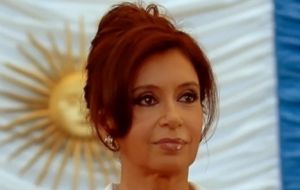 Argentine president Cristina Fernandez de Kirchner (CFK) behind doors in Government House criticized her peer from Venezuela Hugo Chavez saying "he speaks before stopping to think" and praised US president Barack Obama insisting she was interested in having "closer relations with United States", according to the latest revelations from Wikileaks.
"Very often he speaks before thinking" Mrs. Kirchner told departing US ambassador Early Anthony Wayne on 27 May 2009. "We all must be very careful with what we say in public" added the Argentine president. According to the confidential cable sent by Wayne to the State Department Mrs Kirchner defended President Chavez but marking distance from some of this policies and statements.
"I can't understand Chavez' mind regarding US policy in the Middle East" admitted the US ambassador during the meeting to which Mrs Kirchner replied he has a "Caribbean mentality" and is "full of surprises". Thirteen months before the Argentine president used the same 'Caribbean mentality' expression to describe her Venezuelan peer. On the contrary CFK said she was delighted with the way President Obama was addressing Middle East policy.
In contrast with her definition of Chavez, CFK admitted to Ambassador Wayne she was 'fascinated' with Obama and had always wanted "close relations" with the White House, and was hopeful that this would work out now since with the previous president (George Bush) it had been very difficult.
Others cables from 2009 and 2010 also reveal the Argentine insistence on President Obama holding a meeting with Cristina Fernandez de Kirchner, which contrasts with the official apparent lack of interest in promoting bilateral relations with Washington. This turned more pressing as news of President Obama's coming visit to the continent (March19 to 23) became known.
Former Foreign Affairs minister Jorge Taiana in a meeting with the current US ambassador Vilma Martinez cautioned about the consequences and benefits of such a meeting. "If the US does not cultivate relations with the President (CFK) others will" said Taiana in a sort of suggestion and warning on 18 September 2009.
Taiana insisted on the priority for such a meeting between the Argentine president and Obama because otherwise it could have a cost for the relation. For Mrs Kirchner it was becoming an embarrassment of which the opposition was taking stock.
November 2009 Argentine Minister of Economy Amado Boudou during a meeting with ambassador Martinez went straight to the point and mentioned the rumours of a possible tour of the region by President Obama. If so, "it would be most important that Argentina be included since the country is moving towards a more cooperative vision with markets in its international economic policy, and a visit would certainly boost such a change in orientation".
But Argentina has been skipped from the coming Obama visit (El Salvador, Chile and Brazil) and there has been no tête-à-tête meeting between the two presidents be it not for casual encounters during the Americas summit in Trinidad Tobago or in the G-20 Washington and London summits. This is in contrast with what has happened with the leaders from Brazil, Mexico, Chile, Colombia and Peru.
"I can't ignore that" admitted Cristina Fernandez de Kirchner to a delegation of four US lawmakers, Eliot Rangel, Shelly Berkley, Pedro Pierluisi and Lynn Wolsey when they visited her at her office in January 2010. At the time the Argentine president was beginning to express her first objections towards the Obama administration which "has not met our expectations", and specifically mentioned Honduras, the military presence in Colombia and the Arab-Israel conflict.
A similar message was given to Under Secretary of State for Hemispheric Affairs, Arturo Valenzuela in February 2010, during his first visit in the post to Argentina. "I can't ignore" the attitude of the Obama administration.
CFK also recalled the contrast with the previous Bush administration. The Republican president met President Nestor Kirchner a month after he had won the May 2003 election in spite of 'political differences'. Obama met with Brazilian president Lula da Silva in spite of the fact that Brazil voted against US interests in the International Atomic Energy Agency, IAEA, and the Brazilian leader also received in Brasilia, Iranian president Mahmoud Ahmadinejad.
Representative Rangel promised to let President Obama know Mrs Kirchner's frustration and push for a bilateral meeting between both leaders. At the time CFK was again beginning to take distance from Washington.
From receiving and socializing with US ambassador Wayne and declaring herself an admirer of the "US civic spirit" and described by the embassy as "fanatic for the American way of life", CFK started to defend Chavez (a good friend), criticize the White House policies and, besides a casual meeting with Obama April 13 during the Global Nuclear Security Summit, ended in the serious diplomatic incident of last February when allegedly 'sensitive equipment' from a US Air Force aircraft was seized by Argentine Customs under the personal monitoring of Foreign Affairs minister Hector Timerman.
Quite a distance from the two occasions CFK celebrated links with Obama: the first time in November 2008 when the recently elected US president called Buenos Aires. "He said he wanted to present himself and talk with me and was looking forward to meet me and talk personally", said CFK at the time. The second time was when 25 May 2009 she received a congratulation letter from President Obama on Argentina's National Day.
According to one of the Wikileaks cables, the US embassy in Buenos Aires reported back on the following day: "Obama-mania in Argentina seems to have reached CFK, who has reacted euphorically to a routine message, although warm and refined for Argentina's National Day", reported Wayne.
"Argentines once again made a mountain out of a handful of soil, but this time luckily in our favour. It looks as if CFK and the Argentines are anxious waiting signals of approval from President Obama", concluded the Wikileaks cable.