China's largest agro enterprise plans to buy or lease 200.000 hectares world wide
Tuesday, March 15th 2011 - 10:26 UTC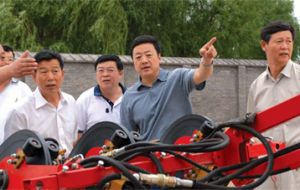 China's largest agricultural enterprise, Heilongjiang Beidahuang Nongken Group, will acquire or lease 200,000 hectares of cropland in countries including Brazil, Argentina, Venezuela, Russia, The Philippines, Australia and Zimbabwe, the official People's Daily newspaper said.
Heilongjiang's chairman, Sui Fengfu, told the paper that the acquisitions will be carried out throughout the remainder of 2011.
The state-run company invested more than 38 million USD between 2005 and 2010 in a global expansion for which the particulars varied by country, he said.
"In Venezuela and Zimbabwe, the group mainly provides machinery and labourers, and takes about 20% of the harvest in return," Sui said. "In Australia, it is mainly through the acquisition of local farmland. In Brazil and Argentina, the business model involves renting land".
China, the world's most populous country with 1.34 billion citizens, is experiencing an agricultural deficit that has spurred the authorities to seek access to crops outside its territory.
In fact, according to somewhat dated statistics, less than 11% of Chinese territory is arable, though the country has ample technology, labour and capital.
"Countries in South America, for example, have arable land and need our technology and investment, and they welcome our companies. It's a win-win solution" said Wang Yunkun, deputy director of the Agriculture and Rural Affairs Committee of the National People's Congress.