EU/Mercosur plan to exchange 'sensitive' items proposals at the Asuncion round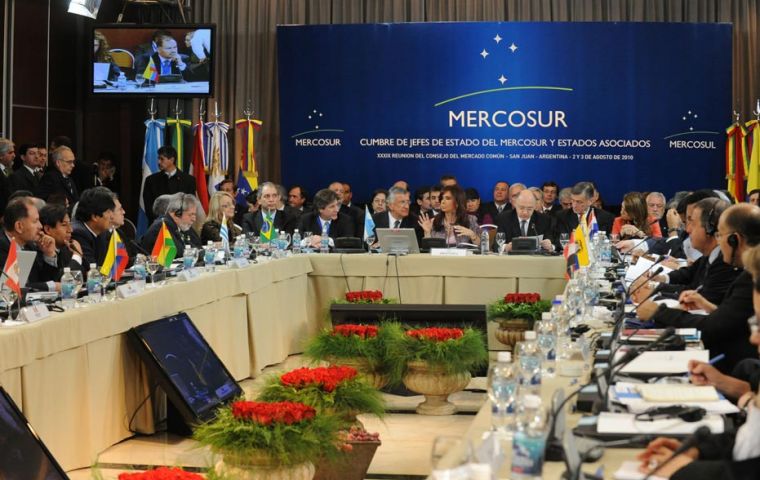 Mercosur and the European Union began Monday in Brussels a new week-long round of negotiations for an association and trade agreement that so far does not include market access for sensitive items such as meats, which triggered strong protests and warnings from European farmers and the European Parliament.
This is the fourth negotiations round since talks were resumed May 2010 in Madrid after having been stalled for years. Taking stock from past experience both sides have not yet presented their specific proposals to liberalize trade of goods and services. So far discussions have concentrated on the main framework with chapters on technical hurdles to trade, rules of origin and competition, among others.
Apparently the first exchange of proposals is scheduled for the 2-6 May round in Asunción, Paraguay, although this has not been confirmed.
"Both sides are working internally on their proposals and it's not clear when they will be ready for their formal presentation, time and opportunity".
European Commission sources said they are well aware of the sensitivity of the agriculture issue for European farmers.
The European Parliament has expressed full support for farmers, and the EC has guaranteed that farmers' interests will be taken into account 'entirely' when the time comes to negotiate with Argentina, Brazil, Paraguay and Uruguay.
In that context and particularly regarding beef, any bilateral proposal must take into account the EU proposals that were done in the framework of the Doha Round to liberalize world trade, pointed out farmers' organizations.
Farmers and breeders in several European countries, mainly France and Ireland, have publicly, sometimes violently, expressed their concern about the impact of a free trade agreement between the two blocks particularly since Mercosur is the world's leading producer and exporter of beef.
While Mercosur is pushing for concessions to increase market access for its farm produce, EU farmers believe such an advance would cause a 'collapse' of the beef industry and livestock farmers to the tune of 25 billion Euros, according to a report elaborated by agriculture organizations and cooperatives, Copa-Cogeca.
To these concerns must be added the European parliament statement requesting the EC not to negotiate agriculture concessions that could be devastating for European farmers. Furthermore Euro lawmakers has called for no negotiations until a full report on the impact of Mercosur farm imports has been elaborated.
As to the association and cooperation understanding between the EU and Mercosur, several initiatives have been presented at the different rounds by the Mercosur chair Paraguay, and are under consideration.