Bahrain threatens to turn into a conflict between Sunni-rulers and Shi'ite majority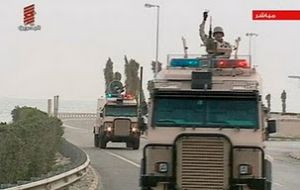 Bahrain's king declared martial law as his government struggled to quell an uprising by the island's Shi'ite Muslim majority that has drawn in troops from fellow Sunni-ruled neighbour Saudi Arabia.
An uneasy calm fell on Bahrain overnight, and a Defence ministry statement suggested action against protesters camped out for weeks at Pearl roundabout could be swift. Forces may impose curfews, disperse gatherings and evacuate areas, it said.
The three-month state of emergency hands power to Bahrain's security forces, which are dominated by the Sunni Muslim elite.
Clashes left three dead. A hospital source said two men, one Bahraini and the other Bangladeshi, were killed in clashes in the Shi'ite area of Sitra and more than 200 people were wounded in various incidents.
State television said a Bahraini policeman was also killed, denying media reports that a Saudi soldier had been shot dead.
Over 60% of Bahrainis are Shi'ites and complain of discrimination at the hands of the Sunni royal family. Calls for the overthrow of the monarchy have alarmed the Sunni minority, which fears that unrest could serve non-Arab Shi'ite power Iran.
The United States, a close ally of both Bahrain and Saudi Arabia, said it was concerned about reports of growing sectarianism in the country, home to the U.S. Navy's Fifth Fleet. It dispatched Assistant Secretary of State Jeff Feltman to Bahrain to push for dialogue to resolve the crisis.
Speaking in Cairo, US Secretary of State Hilary Clinton said she had told her Saudi counterpart to promote talks to resolve the situation.
"In order for the situation to return to normal we have to establish order and security and ... stop the violations which have spread disturbances among the people of our dear country," said Interior Minister Sheikh Rashed al-Khalifa.
On Monday, more than 1,000 Saudi troops rolled into the kingdom at the request of Bahrain's Sunni rulers. The United Arab Emirates has sent 500 policemen and Qatar said it would also send police. Thousands of Bahrainis marched on the Saudi embassy in Manama on Tuesday to protest against the intervention.
Analysts said the troop movement showed concern in Saudi Arabia that any concessions in Bahrain could inspire the kingdom's own Shi'ite minority.
Iran, which sits across the Gulf from Bahrain, criticized the decision to send in Saudi troops.
"The presence of foreign forces and interference in Bahrain's internal affairs is unacceptable and will further complicate the issue," Foreign Ministry spokesman Ramin Mehmanparast said at his weekly news conference in Tehran.