Argentina and Uruguay advance relations in a full ministerial meeting
Thursday, March 17th 2011 - 17:27 UTC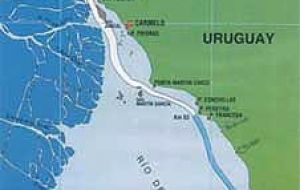 Argentina and Uruguay signed this week several agreements with the aim of improving bilateral trade, improving rivers' navigation, social policies and other issues, within the Second Bi-national Meeting of Ministers in the framework of a relation described as 'strategic'.
"The Joint Statement prompts the speeding up of trade matters and the improvement and expansion of bilateral trade. These are very important agreements," said Uruguayan Foreign Minister Luis Almagro.
"There is a commitment and both parties benefit. Regarding export sectors, Uruguay has a 1 to 3 deficit relation with Argentina," he added.
Another crucial issue for Uruguay to develop its ports' capacities was the decision to dredge the River Plate access canals. Uruguay's Nueva Palmira harbour has become the country's main grains, oilseeds and pulp export harbour but depends dramatically on the dredging of the Martin Garcia canal, shared and jointly administered with Argentina.
"The dredging of the Martin García channel in the Rio de la Plata river and the Paraná river will be put out to tender" announced Almagro.
Uruguayan businessmen had expressed concern regarding President Cristina Fernández de Kirchner´s decision of increasing the non-automatic licenses from 400 to 600 products thus establishing protectionist barriers to products of all over the world, including Uruguayan goods.
If strictly enforced, trade barriers on Uruguayan products would mean that the country could lose up to 150 million US dollars, particularly in textile, food and auto-parts sectors, of a total amount of 500 million US dollars of export to Argentina.
Despite that Uruguay increased exports to Argentina in 2010 Uruguay suffered a 900m USD deficit in trade balance with the country.
"We shall start a new relationship trade wise. We signed agreements for integration in the fields of mining, health, education, science, energy, environmental issues, and social policies," Foreign Minister Timerman stated.
Uruguayan and Argentine ministers will meet every six months and shall be in constant communication. Regarding energy agreements, both countries agreed to boost a re-gasification plant and the Salto Grande bi-national dam.
Argentina and Uruguay also agreed to establish a centre for renewable energies and to fight against international organized crime.
Argentine Ministers that took part of the meeting included: Foreign Minister Héctor Timerman, Industry Minister Débora Giorgi, Tourism Minister Carlos Meyer, Planning Minister Julio De Vido, Justice Minister Julio Alak, Labour Minister Carlos Tomada, Social Development Minister Alicia Kirchner, Education Minister Alberto Sileone, Sciencee Minister Lino Barañao and Agriculture Ministry Agriculture Secretary Lorenzo Basso.
Uruguayan ministries and government officials included: Foreign Minister Luis Almagro, Interior Minister Eduardo Bonomi, Industry Minister Roberto Kreimerman, Transport and Public Works Minister Enrique Pintado, Culure and Education Minister Ricardo Ehrlich, Social Development Minister Ana Vignoly, Agriculture Minister Tabaré Aguerre, Health Minister Daniel Olekser, Housing Minister Graciela Muslera, Sport and Tourism Vice-Minister Liliam Kechichián and Economy Ministry Macroeconomic Consultancy Head, Andrés Masoller.
The ministerial summits between Argentina and Uruguay were born following the Anchorena Declaration, signed by Presidents Cristina Fernandez and Jose 'Pepe' Mujica 2 June 2010, which put an end to the pulp mills dispute and opened the way for normalizing links after five years of strained relations. Both presidents described as the new chapter in bilateral relations as strategic.