Japanese tsunami surprises Midway atoll killing thousands of albatrosses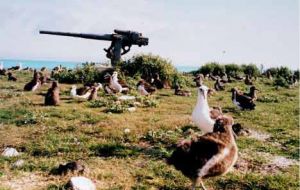 Thousands of albatrosses and other endangered species at a wildlife sanctuary north-west of Hawaii have been killed by the tsunami which devastated Japan, US officials say.
Thousands of petrels and fish were also killed as huge waves swept over parts of the remote, low-lying Midway atoll. The sanctuary is home to more than two million birds.
One lucky survivor was Wisdom, an albatross about 60 years of age, who is the oldest-known bird in the US. The Laysan albatross came to prominence recently when she was spotted with a chick, astounding scientists that she could still raise offspring at age 60-plus.
Midway is one of the most remote coral atolls on earth which has been developed as a wildlife sanctuary after the US Naval Air facility on Midway Island closed in 1993.
Midway was a key military base for the US during World War II, as well as during the Korean, Cold and Vietnam wars.
The US Fish and Wildlife Service reported that 1,000 adult and adolescent Laysan albatross died when the tsunami generated by last Friday's powerful earthquake off the coast of Japan struck Midway Atoll National Wildlife Refuge. Tens of thousands of chicks were also killed.
Waves reaching 1.5 metres high smashed into the atoll just before midnight local time on 10 March and continued for the next few hours. The waves washed over 60% of Eastern Island, an islet of nearly 150 hectares inside the refuge.
Residents at the atoll had four hours' warning and were able to take precautions.
One chick in a short-tailed albatross nest was found unharmed about 35m away, after its nest was washed over. Other birds were less lucky - thousands of Bonin petrels were buried alive.
Thousands of dead fish were found in the interior of Eastern Island and the impact on Laysan ducks and monk seals is unknown, the wildlife service said.