Arianespace will launch third Argentine communication satellite in 2013
Friday, March 18th 2011 - 18:46 UTC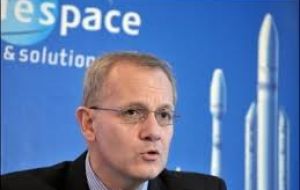 Argentina has again selected Arianespace for its commercial launch services - this time to orbit the Argentine satellite operator's second satellite, Arsat-2.
Participating in this week's Satellite 2011 conference in Washington, D.C., Arianespace has signed a launch Service and Solutions contract with Argentine operator ARSAT (Empresa Argentina de Soluciones Satelitales Sociedad Anonima) to orbit its Arsat-2 satellite by the second half of 2013.
Weighing about 2,900 kg at launch, Arsat-2 will be placed into geostationary transfer orbit by an Ariane 5 or Soyuz launcher from the Guiana Space Centre, Europe's Spaceport in French Guiana.
Arsat-2 will be fitted with 26 Ku-band (2 beams) and 10 C-band (hemi beam) equivalent transponders. It will offer a wide range of telecommunications, data transmission, internet and television services, primarily across the Americas from Argentina to Canada.
The satellite is being built by the Argentine company INVAP, with Astrium and Thales Alenia Space as leading equipment suppliers. Arsat-2 will be the third Argentine satellite launched by Arianespace, following Nahuel 1A orbited in 1997 and Arsat-1 to be launched in mid 2012.
"We are very pleased with our selection of Arianespace to launch our second geostationary satellite built in Argentina," said Pablo Tognetti, Chairman and CEO of Arsat. "Once again, price, excellence in space transportation and mission success ratio were critical in our decision." said Tognetti.
Arianespace Chairman and CEO Jean-Yves Le Gall said: "Arianespace is especially proud of this new opportunity to work with a South American satellite operator, and we would like to thank ARSAT for selecting us. This latest contract is clear recognition of the quality and competitiveness of our launch Service and Solutions.